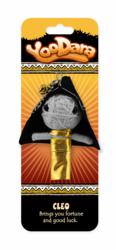 Dimension 9 is pleased that YooDara Good Luck Charms were invited to participate in the 54TH Annual GRAMMY Awards® gift bags
Prescott, AZ (PRWEB) February 08, 2012
The GRAMMY gift bags are reserved for presenters and performers in acknowledgement and thanks for their participation. "Dimension 9 is pleased that YooDara Good Luck Charms were invited to participate in the 54TH Annual GRAMMY Awards® gift bags." states Director of Sales Ross Johns. Gift bags will be handed out at the official gift lounge, presented by Distinctive Assets and LASIO Professional Hair Care. YooDara is among many prominent brands featured in the gift bags this year.
YooDara are handmade collectible string charms, offering positive messages special to each of the 36 characters, suitable for a variety of situations and lifestyles.
Collectors of YooDara are encouraged to visit YooDara.com as well as the YooDara Facebook, Twitter, and YouTube pages to participate in a dynamic online community.
Tribes of YooDara charms are grouped by common positive themes, including protection, good luck, power, and wisdom. Each character comes with an attachable disk to identify their name and power. Internet access codes on each disk provide members-only access to activities on the free YooDara.com website. QR codes on the package lead customers to the YooDara experience on the YooDara.com website.
YooDara Good Luck Charms have been featured by TrendHunter Magazine, the world's number one largest, most popular trend spotting community. The characters were also spotted with top YouTube personalities DeStorm and Jory Caron. Good Luck Charms from YooDara will be gifted and accompany this year's GRAMMY talent, including Bruce Springsteen, Coldplay, Rihanna, Paul McCartney, Taylor Swift, Jason Aldean, Blake Shelton, The Band Perry, Kelly Clarkson, Nicki Minaj, Foo Fighters, Bruno Mars and many more yet to be announced.
Follow the YooDara Twitter page for live tweets during the GRAMMY Awards and a chance to interact with celebrities as they receive their good luck charms!
YooDara Good Luck Charms are available at specialty, gift, and souvenir shops throughout the nation. For more information, or to find a YooDara retailer, visit http://www.YooDara.com.
Dimension9 is a manufacturer of quality gift products. Privately owned and operated, Dimension9 develops and imports superior, high-quality and high-profit products. Products can be found in many prominent locations such as nationally recognized attractions and premier gift and souvenir stores, and is now growing internationally. Join the YooDara good luck charms social movement by being a fan on Facebook at http://www.Facebook.com/YooDara, and following YooDara on Twitter at http://www.twitter.com/YooDara. For all the up to date information and latest news on YooDara, visit http://www.YooDara.com.
About The Recording Academy®
Established in 1957, The Recording Academy is an organization of musicians, producers, engineers and recording professionals that is dedicated to improving the cultural condition and quality of life for music and its makers. Internationally known for the GRAMMY Awards — the preeminent peer-recognized award for musical excellence and the most credible brand in music — The Recording Academy is responsible for groundbreaking professional development, cultural enrichment, advocacy, education and human services programs. The Academy continues to focus on its mission of recognizing musical excellence, advocating for the well-being of music makers and ensuring music remains an indelible part of our culture. For more information about The Academy, please visit http://www.grammy.com. For breaking news and exclusive content, follow @TheGRAMMYs on Twitter, like "The GRAMMYs" on Facebook, and join The GRAMMYs' social communities on YouTube, Tumblr, Foursquare, GetGlue, and Instagram.
###