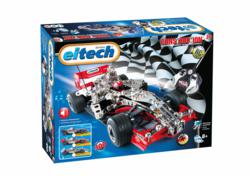 Redmond, WA (PRWEB) February 07, 2012
Eitech America, the exclusive U.S. distributor for Eitech, the German manufacturer of steel construction and building sets; will debut new and innovative construction sets for the toy and hobby market at International Toy Fair in New York City at the Jacob Javits Convention Center, booth #5445.
Eitech is gearing up to showcase a number of new toys that offer new styles of playability and creativity. These products include Eitech's an exciting lineup of steel construction sets and newly designed Teifoc brick and mortar construction sets.
This year, Eitech will be showcasing two new RC race car models to satisfy and excite the brand's ever-expanding fan base. Kids will soon have the opportunity to build their own Formula 1 race car with the C28 Eitech RC Formula 1 Race Car Construction Set. This will be the first Eitech RC race car to feature real automotive sounds.
Eitech will also feature the C29 RC Eitech Vehicle Construction Set. With a 2 way remote control which includes rechargeable 6V batteries, it ensures kids a fun, fast time! This set has over 400 parts, including tools and flashing LED-lights.
Last year, Eitech's London Tower Bridge Construction Set—an iconic steel and brick bridge made with Eitech's interchangeable steel parts and Teifoc's brick and mortar components—made its first official American debut at Toy Fair 2011 and was announced in an Eitech official press release on Feb 7, 2011. Designed to develop advanced learning and science skills, the set contains over 1000 brick and steel pieces, step by step illustrated instructions and a new challenge for Eitech's devoted fan base of future builders. This year, there will be a full scale model of the 3ft long London Tower Bridge on display.
The Eitech booth can be found at #5445 at Javits Convention Center, Feb 12-Feb 15.
About Eitech and Teifoc:
Designed to promote fine motor skills, creativity and engineering prowess, all Eitech kits feature interchangeable parts, leaving no boundaries for the imagination. Tools and step by step illustrated instructions are included for easy to follow directions. Teifoc and Eitech toys are manufactured and engineered in Germany and made exclusively by Eitech, the leading European steel construction and building set manufacturer.
# # #