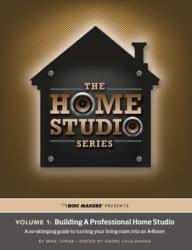 Pennsauken, NJ (PRWEB) February 06, 2012
More musicians than ever are recording their music in a home project studio, but too often their recordings are marred by poor technique, inadequate tools, and a substandard acoustic environment. Disc Makers' new "Home Studio Series" of guides is aimed at helping musicians better understand the recording process while providing information to help them improve their studios and recordings.
Building a Professional Home Studio: A no-skimping guide to turning your living room into an A-Room, the first in the "Home Studio Series," was written by Philadelphia's iconic Grammy-winning engineer Michael Tarsia and details the process of constructing an acoustically sound, professional recording environment in his home. The guide explores how Tarsia built his studio from the ground up, the pros and cons of renting a space vs. building at home, picking the prime location to build, soundproofing and sound leakage, building an isolation booth, and more.
Disc Makers, the nation's leading independent disc manufacturer, maintains DIY music blog Echoes, and has published over a dozen guides aimed at helping musicians sustain their own careers. This series of guides is their first to tackle the topic of home recording.
"Our readers are musicians who are constantly recording music," says Tony van Veen, CEO of Disc Makers. "So whether it's about gear, recording techniques, or tips from successful producers, the subject of home recording really resonates, and we developed this series of guides to deliver quality advice that musicians can act on immediately."
Other titles in the Home Studio Series will include The $999 Home Studio Guide; The Home Studio Microphone Guide; Using Compressors, Delays, and Reverb; and Getting Great Tones in Your Home Studio. "With each new volume, we'll touch on a different topic related to recording," explains Andre Calilhanna, the editor of The Home Studio Series. "By the end, we'll have provided a very well-rounded, rich resource filled with nuggets of wisdom from folks who have plenty of recording experience and lots to share on the subject."
About Disc Makers
Disc Makers is the world's largest CD & DVD manufacturer for independent musicians, filmmakers, and businesses. They offer a massive range of products and services, including complete CD & DVD Duplication, CD & DVD Replication, printing, and custom packaging, plus their full line of state-of-the-art automated disc duplicating and printing systems. In business since 1946, the company produced almost 70,000 CD and DVD projects in 2011, an all-time record.
###