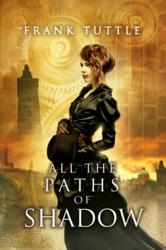 The king's orders were clear enough. "Move the tower's shadow," he bellowed. "I refuse to deliver my commencement speech from the dark."
Newport, Rhode Island (PRWEB) February 08, 2012
"All the Paths of Shadow" has been released simultaneously in traditional paperback and e-book formats and is available at the publisher's website at http://www.coolwellpress.com as well as Amazon and Barnes and Noble.
As the newly appointed mage to the Crown of Tirlin, Meralda Ovis has no choice but to undertake King Yvin's ill-conceived task—that of moving the Tower's shadow. Tirlin's first female mage, and the youngest person to ever don the robes of office, Meralda is determined to prove once and for all that she deserves the title. The Tower, though, holds ancient secrets all its own. Secrets that will soon spell destruction for all of Tirlin—unless Meralda can unravel a monstrous curse laid by a legendary villain seven centuries before she was born.
"I wanted to write a YA fantasy with heart," says Frank Tuttle. "I knew going in there'd be a touch of steampunk, a hint of a ghost story, and a lot of humor. I didn't know I'd wind up making a young woman the heroine, or that her best friend would be a magically-animated houseplant with twenty-nine eyes and a genuine talent for sarcasm. But that's how books work. If they're any good at all, they surprise everyone, even the author."
"All the Paths of Shadow" will enchant readers and inspire them as they follow the adventures of this unlikely teenaged heroine in Tuttle's new fantasy series.
About Cool Well Press
Cool Well Press offers its readers a variety of genres including fantasy, mystery, science fiction, suspense, historicals, Young Adult, and non-fiction. Cool Well Press strives to bring you the best and brightest authors and stories that will touch your heart, open your mind, and keep you thinking long past The End.
For more information, please visit Cool Well Press at http://www.coolwellpress.com. For the latest, follow @coolwellpress on Twitter.
###