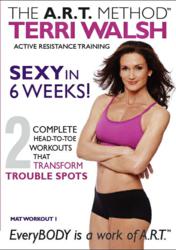 The A.R.T. Method fitness bootcamps teaches everyone how to make the most of their workouts and apply the technique to all other physical activities
New York, NY (PRWEB) February 08, 2012
New York's active professionals, creative minds and young entrepreneurs can now learn to exceed performance levels and achieve more with the added new classes for A.R.T. (Active Resistance Training) Method® fitness bootcamps by Terri Walsh at the A.R.T Studio NYC. With classes now conveniently scheduled in the mornings and after-work, three times a week, there's a fitness bootcamp in NYC to accommodate anyone's hectic schedule. Physical activity before breakfast fast-tracks metabolism, prompts the body to burn a greater percentage of fat, increases brain acuity up to 10 hours, and regulates hormones to control appetite - converging to establish a stable circadian rhythm for better quality of sleep. Working out after work, on the other hand, allows people to do better in endurance, strength output, reaction time and aerobic capacity. Body temperature and hormone levels in the late afternoons are ideal for muscle flexibility and toning. Additionally, people are able to dedicate themselves better to their workouts without worrying about the day ahead, preventing any craving for late night snacks and ultimately experiencing an excellent way to de-stress and unwind.
Brides-to-be also find a dedicated and focused environment to help them get to their ideal shape in time for the big day. The recently launched A.R.T. Method® bridal bootcamp NYC is an intensive program designed to transform trouble spots and give women the best shape of their lives, showing losses of 2-15% of body fat and 2-6 inches lost from their waistlines before walking down the aisle. More than just another disposable fitness program of the moment, the A.R.T. Method® was conceived as self-adapting moves, deconstructed traditional workout routines redesigned into gradually progressive sequences suitable for everyone from beginner to advanced fitness enthusiasts. This unprecedented technique is based on four major resistance points in the body and is relevant and transferable to all kinds of physical disciplines like yoga, pilates, dance and ballet, kick boxing or any fitness and boot camp program. Terri also provides off day support with her A.R.T. Method® App & her easy to implement food guidelines and portion control.
A renowned celebrity fitness trainer, Terri is also provides the best personal training NYC has to offer at her A.R.T. NYC studio. She says, "We build the foundation of achieving goals here. The A.R.T. Method® is a transformational technique that helps anyone achieve more out of their lives."
ABOUT TERRI WALSH With over two decades of experience as a professional celebrity fitness trainer, author, fashion and beauty expert and multi-media spokesperson, Terri Walsh has always blended an assuredly reliable knowledge of fitness with an innovative flair and a personal understanding of the modern woman's lifestyle. Recently, she launched the groundbreaking and innovative A.R.T. Method® as a way to provide everyone with the means to move their bodies optimally to get the best results out of any physical activity or discipline. Her engagingly motivational and personalized instructional style has earned her a much deserved reputation as New York's most progressive and in-demand fitness authority. Visit http://artstudionyc.com for further information.
# # #