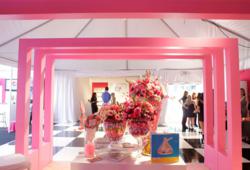 Los Angeles, CA (PRWEB) February 15, 2012
Rihanna, LL Cool J, Maroon 5, Chris Brown, The Band Perry, Jason Aldean and many more experienced "a sweet escape" between rehearsals at the 54th Annual GRAMMY Awards® Official Talent Gift Lounge. Music's Biggest Night® was broadcast live on Feb. 12, 2012 on the CBS network at 8 p.m. ET/PT. From February 9-11, 2012, talent indulged in what the best of Hollywood has to offer at this candy concept Lounge. Candy colors and the experience of being in a sweet shop inspired the design. A whimsical yet wonderfully modern space with monumental pink architectural arches and a black & white checkerboard floor surely brought out the inner child in every rock star who walked through! Talent received a $10,000 gift certificate towards design services by Seyie Design. In addition, exciting sweepstake prizes from Seyie Design and contributing vendors were picked up by a few lucky winners. Rihanna won a gold "Kiss" sculpture by Jean Wells, Joy Williams of The Civil Wars won a limited edition "Copper Ganesha" screen print by artist CRYPTIK and Neil Patrick Harris got the "Stamen" pendant light by Niche Modern.
Seyie Putsure of Seyie Design was selected as the exclusive interior designer for the 54th Annual GRAMMY Awards Official Talent Gift Lounge. "What do you give someone who has everything? I think it is by creating a special experience of how they receive these gifts. In designing this lounge, I wanted to create a fanciful place that stimulated child-like excitement in the talent, yet still sophisticated and edgy to appeal to their rock-star tastes," said Seyie. Seyie has more than 10 years of experience in high fashion and interior design and began her career as an executive with Dolce & Gabbana and Chanel in New York City.
Seyie founded Seyie Design in 2007 to bring fashion and function into residential and retail environments. She works with residential and retail clients in California and India. Seyie was Fendi Casa's Designer of the Month, participated in DIFFA's Dining by Design, and has been featured in Vogue, Elle, and DDI Magazine, among others. She has designed lifestyle lounges for celebrity gifting, including one for the 2010 American Music Awards. Her exclusive presentation, Designing the Luxury Retail Brand: Secrets to Creating Successful In-Store Branding and Merchandising, was featured at Mobius LA @ Dwell by Design. Through her design and her blog, Life is Fashionable at http://www.seyiedesign.com, Seyie continues to merge the fashion and interior design worlds.
###