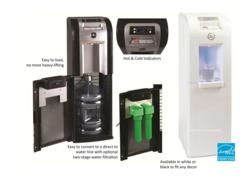 Columbus, OH (PRWEB) February 08, 2012
Oasis International®, the world-wide leader in high-quality water delivery solutions for home and business, introduces the new MIRAGE Flex-Dispense™ water cooler. The MIRAGE is a bottom-load bottled cooler or direct to water line with water filtration water dispenser. Unique in the market, this cooler provides the ease-of-use, flexibility and options today's consumer's demand.
ABOUT THE MIRAGE FLEX-DISPENSE WATER COOLER
Innovative design combines ease-of-use and versatility into one. The bottom loading technology eliminates heavy-lifting of water jugs making refills a breeze. And the simple conversion to direct water line provides versatility for any environment, making this dispenser a valuable addition to any home or office.
Product Details:

Modern cabinet design, available in bright white or black with silver accents to fit any décor
Easy to use controls located on front display panel for tri-temperature dispensing hot, cold or ambient water
Large faucet alcove for filling sports bottles and carafes
Convection-cooled condenser, internally spring-mounted hermetically sealed compressor with automatic overload protector
Cold Water Reservoir 300 Series stainless steel tank and external copper refrigerant coil encased in molded foam insulation
Hot Water Reservoir with 33.8 ounce, 300 Series stainless steel tank and 450 watt element.
Delivers 1 Gallon of cold 50ºF water per hour
Delivers over 2 Gallons hot water per hour
Hot Water Safety Faucet is simple to use, but protects small children from accidental water flow
Fits 3 or 5 gallon water bottles in bottle cooler mode
Large capacity removable drip tray is dishwasher safe
Energy Star Rated
Patent-Pending conversion feature
3-Year Warranty
The MIRAGE is easy to convert to a point of use unit plumbed directly to a water line. Unlike other water coolers on the market, this unit offers optional water filtration utilizing the OASIS Green Filter® for optimal water quality.
About OASIS Green Filter Technology
OASIS introduced its environmentally friendly Green Filter® water filtration system to provide a better option for filtering water. The Green Filter features a completely re-usable housing that is refillable which contrasts with other filter cartridges where plastic or metal housings are thrown out after each use.
The Green Filter is available with numerous filtering elements to resolve common water problems—bad taste, odor, cysts, bacteria, lead, cloudiness, sediment and other dangerous chemicals are eliminated or substantially reduced. Regardless of the quality of your water, the OASIS Green Filter will help deliver healthy, great-tasting water.
ABOUT OASIS INTERNATIONAL
Oasis International, headquartered in Columbus, Ohio, with facilities in Mexico, Ireland and Poland, manufactures and distributes a wide range of water dispensing solutions for home and business. It's our mission and our passion to provide durable high quality, technologically advanced, water and water filtration products that deliver long-lasting value. For information about our company and our products, please visit http://www.oasiscoolers.com.
###