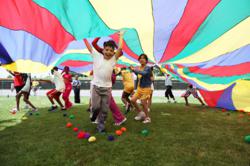 Daily physical activity is among the most important behaviors for children to learn, but a difficult lesson to teach.
New York, NY (PRWEB) February 07, 2012
New York Road Runners (NYRR) will award $20,000 in grants this winter to schools and non-profit organizations to support youth running and fitness events. The grants are to celebrate the launch of Events to Run, a new youth fitness resource designed to help adults organize several types of youth athletic events, including field days, fun runs, and cross country races.
NYRR will announce 40 winners on March 2, 2012, each of whom will receive a grant of $500 for resources to support youth-focused events. Award recipients will be chosen based on completed grant applications. Details are found on NYRR's coaching resources website. The application deadline is February 13, 2012. In 2009, NYRR awarded $50,000 to public schools across the country to support youth running programs.
"The healthy habit of daily physical activity is among the most important behaviors for children to learn, but a difficult lesson to teach in a culture that prizes comfort and convenience over physical exertion," said Cliff Sperber, Vice-President of NYRR's Youth and Community Services. "As moderate to vigorous physical activity—a core element of wellness—is no longer an organic aspect of many children's lives, Events to Run is a vital resource that enables schools and community groups to engage large numbers of children in running-related events. The excitement of events has a dynamic, two-fold value: it motivates kids to participate in preparatory programs before the event, and it inspires their continued participation after the event."
About New York Road Runners
New York Road Runners was founded in 1958 when a small group of passionate runners vowed to bring running to the people. Over the past 53 years, NYRR has grown from a local running club to the world's premier community running organization. NYRR's mission is to empower everyone, of all ages and abilities—beginners and competitive athletes, the young and the elderly, adult professionals and underserved schoolchildren—to improve their health and well-being through the power of running and fitness.
NYRR's races, community events, instruction and training resources, and youth programs give hundreds of thousands of people each year the motivation, know-how, and opportunity to start running and keep running for life. NYRR's premier event, the famed ING New York City Marathon, attracts the world's top pro runners and committed amateurs alike while also raising millions of dollars annually for charity and driving economic impact for the City. But NYRR is equally committed to the runners of tomorrow, passionately providing youth fitness programs that educate and inspire more than 100,000 kids in underserved communities in New York City, all 50 states, and around the world.
Headquartered in New York City, NYRR implements a unique nonprofit model that teams contributed and earned income to make all its efforts possible. To learn more, please visit http://www.nyrr.org.
# # #