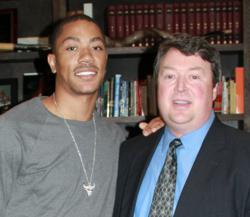 Derrick Rose is a superstar both on and off the court !
Chicago, IL (PRWEB) February 06, 2012
Chicago Bulls basketball superstar and NBA 2011 MVP Derrick Rose received a stunning black and white diamond encrusted gold neckpiece from Albert's Diamond Jewelers during the holidays as a token of the community's appreciation for his amazing dedication to local churches and philanthropic efforts in helping the working class communities of suburban Illinois.
The Gameplan Jewelry NBA neckpiece feature the iconic Chicago Bulls logo with over 4 carats of black and white diamonds pave set in white gold on a 36"gold link chain.
Photos Include :
1) Josh Halpern from Albert's and NBA MVP Derrick Rose from the Chicago Bulls wearing Gameplan Jewelry
2) NBA MVP Derrick Rose with Diamond Chicago Bulls Necklace by Gameplan Jewelry
3) NBA Diamond Jewelry – Chicago Bulls Limited W Series gold and diamond neckpiece by Gameplan
Albert's Diamond Jewelry is located just 30 minutes from downtown Chicago at 711 Main Street in Schererville, Indiana. For more information please contact 219-322-2700 219-322-2700.
About Albert's Jewelers
Established in 1905, Albert's has grown from a tiny storefront in East Chicago, Indiana to one of the largest and most successful family-owned jewelers in the country, with 10,000 square feet of exceptional jewelry to choose from. Their professional staff includes in-house jewelers, appraisers and graduate gemologists. Albert's flagship-superstore in Schererville is one of Chicagoland's best kept secrets and was voted the #1 Jewelry Store for seventeen years in a row by the Northwest Indiana Times. For more info please visit http://www.ALBERTSJEWELERS.COM.
###