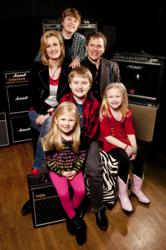 Music is their craft; it's what they learned as kids and a tool they now use to teach their own children life lessons...
Nashville, Tennessee (PRWEB) February 08, 2012
The Martins are a talented family with an incredible legacy. Dad, musician extraordinaire Paul Martin, was a former lead singer of hit making country group Exile, and is now a vocalist and bass player for Marty Stuart and the Fabulous Superlatives. Mom, Jamie Allen Martin, is the daughter of Duane Allen, the lead singer of the Oak Ridge Boys, and Norah Lee Allen, a longtime member of the legendary Carol Lee Singers, the in-house back-up singers for the Grand Ole Opry. Paul and Jamie have four children, March (14), Kell (11), Texas (6) and Tallant (5) – together they are the Martin Family Circus.
From early on the Martin kids have all shown a passion for singing, playing and performing, making guest appearances on stage with their Granddad and the Oaks or on Marty Stuart's RFD tv series. Pretty quickly it became clear that music was a passion and something they truly enjoyed, so Paul and Jamie decided to form Martin Family Circus as a way to teach the kids what is truly a family "craft." But starting a band, particularly when your members are still learning to play, going to school and playing basketball is no easy feat.
The group was brought to the attention of Nashville based video production company Thinking Bee Productions by artist manager Marc Dottore, and now they are working together to produce and distribute a web series about the day to day experiences of the band – the challenges of being on the road and in the studio, raising four children and teaching them the basics of becoming musicians, entertainers and performers.
Said Thinking Bee President and Director Bill Filipiak, "We built Thinking Bee on the premise that there is an audience for family friendly programming of a positive nature and believe "Martin Family Circus" is just such a program. We're beyond proud to be working with the Martins, their management team and to be in a position to help share their story."
Producer Jo Hunt adds, "Besides their great stage presence, one of the key things we loved about the family was that, for them, it's not about being famous. Music is their craft; it's what they learned as kids and a tool they now use to teach their own children life lessons. It's less about the fame and more about the family."
A new episode premieres every two weeks. Four episodes of the series have been released to date. You can keep up with the full series at this link:
http://www.youtube.com/martinfamcircus
Thinking Bee is a video production company dedicated to the documentation of music, its artists, its history and its future. Founded by director/editor Bill Filipiak and producer Jo Hunt, Thinking Bee is quickly gaining a reputation for the cutting edge development and production of unscripted series, music videos, documentaries and web content used for the purposes of marketing through social mediums such as YouTube, MySpace, and Facebook.
###