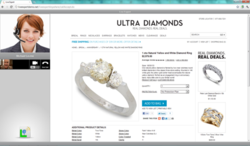 Chicago, IL (PRWEB) February 08, 2012
Ultra Stores, Inc., the nation's fifth largest fine jewelry retailer, launches live video chat services on its website Ultradiamonds.com using ClairVista's Live Expert. Ultradiamonds.com customers can now have face-to-face consultations with live jewelry advisors who are able to share relevant content inside the customer's browser.
"The challenge with e-commerce for a category like jewelry is that self-service produces very low conversion rates. Customers need and want to speak with a knowledgeable advisor before making a purchase. With Live Expert, our advisors can show each customer the products they recommend right on the screen and interact with them the way they would in our stores. We can extend our hours to 24/7 offering our customers the ability to have that personalized in-store experience from the comfort of their home."
Kris Land, Chief Marketing Officer - Ultra Stores, Inc.
Live Expert is the most advanced and widely deployed video chat customer service system available and is used by numerous industry leaders. The system embodies six years of research, development, and operating experience providing video chat technologies and services. Key features include:

One click ease of use for customers.
Agent has visibility & control of customer's experience.
Co-browsing, desktop sharing, file transfers.
Integrated call-back which connects to video chat.
Integrated text chat for customers without a microphone.
Call routing, transfers, queue management.
Video and audio quality enhancement.
Session monitoring, recording, analytics, reporting.
Comprehensive patents.
"Live Expert is the beginning of a new era in high engagement customer service, both online and on site. With a small number of skilled advisors, businesses can now provide every customer with human interaction, guided content sharing, and the right expertise at the moment of need."
Chris Sang, CEO – ClairVista LLC
About ClairVista
Visit http://www.clairvista.com for more information or to request a Live Expert demonstration.
About Ultra Stores, Inc.
Visit http://www.ultradiamonds.com for more information or to experience how great live video chat service can be.
###