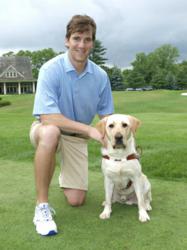 Yorktown Heights, N.Y. (PRWEB) February 08, 2012
New York Giants quarterback and Super Bowl XLVI champion/MVP Eli Manning will reprise his role as spokesperson for Guiding Eyes for the Blind's 35th Annual Golf Classic, held on Sunday, June 10 and Monday, June 11. Manning will join the country's best blind golfers for the nonprofit's two-day event at Mount Kisco Country Club in Mount Kisco, NY and Fairview Country Club in Greenwich, CT – two of the region's favorite and most challenging courses. Guiding Eyes for the Blind's annual Golf Classic is a perennial favorite of businesses, the public, and media because it features a unique combination of intrepid athleticism and a renowned celebrity quarterback.
The Golf Classic was founded by PGA legend Ken Venturi in 1977 and is Guiding Eyes' largest annual fundraiser. To date it has raised over $7 million for the organization, which provides superbly bred Guiding Eyes dogs, professional training, and follow-up support services to visually impaired and blind individuals at no cost to them; Guiding Eyes is fully dependent upon contributions to fulfill its mission. Manning shares, "Since I've been a part of this, I've gotten to learn so much about how these dogs affect lives. Every year, I listen to people tell their story about how they're able to accomplish so much more, and to fulfill so many different talents in their lives because of having guide dogs. That's been very rewarding for me." The star football player became involved with Guiding Eyes through family friend Patrick Browne Jr., a famed blind golfer and Golf Classic champion.
Sponsorships for the 35th Annual Golf Classic are now being accepted at the Platinum, Gold, and Silver levels. Additional support opportunities are also available including bronze foursomes, individual play, hole sponsorship, and journal advertising.
PepsiCo's Gatorade brand returns as a Golf Classic Diamond Sponsor. The drink company shares Eli Manning with Guiding Eyes; the quarterback is a Gatorade spokesperson as well as six-year Guiding Eyes Golf Classic host.
PepsiCo and Guiding Eyes have a unique partnership based on their mutual commitments to enhancing the lives of people with different abilities, and the company's support of the Golf Classic is but one element of a comprehensive relationship involving PepsiCo employees across all of its operating divisions.
The Journal News returns as the Golf Classic's Presenting Sponsor. Additional sponsors for the 35th Annual Guiding Eyes for the Blind Golf Classic include:
Platinum Sponsors: The Canine Companies, SafeHarbor Risk Management & Kinloch Consulting Group
Gold Sponsors: A. Devito & Son, Empire Blue Cross Blue Shield, JP Morgan & Chase Co., and The Justich Family Foundation
Silver Sponsors: Aero Hardware, Citibank, Harriet and Bob Druskin, Freeh Sporkin & Sullivan, LLP, Friends of Vero Beach, Paul Holland, Ken Nilsen, Rolex USA, Skanska USA Civil Inc., The Stewart Family, Welby Brady & Greenblatt, LLP, Westchester Airport, and Wilson and Son Jewelers.
"We are fortunate to have the perfect combination of star power and compelling mission to propel our Golf Classic into what we are sure will be a sold-out event," said Sue Dishart, Vice President of Marketing and Development, Guiding Eyes for the Blind. "You can't put a price tag on Eli Manning's willingness to host and attend the Classic. We are also excited that so many sponsors have jumped on board at this early date. They tell us that this is the one charity golf event that leaves lasting memories – of meeting Eli Manning on the courses, of being challenged by our champion blind golfers, and of seeing our remarkable Guiding Eyes dogs and puppies in action."
On Sunday, June 10, Guiding Eyes presents the Corcoran Cup, the "Masters" of blind golf. Over a dozen top United States Blind Golfers Association players will compete for the coveted award. Then, on the following Monday, the sponsor-support outing takes place, and the blind golfers challenge sponsors to wear blindfolds and take a shot at hitting the ball – so that they experience golf as a visually impaired person. At last year's event, Manning took the challenge and sank his putt. When asked to compare football to golfing blindfolded, Manning admitted, "a full round (of blind golfing) would be very frustrating. I'm just happy to be here to support the cause."
To find out more about sponsorship opportunities, or for general golf information, please contact Michelle Brier, Events and Marketing Manager, at 914.243.2208 or mbrier@guidingeyes.org.
Guiding Eyes for the Blind is located at 611 Granite Springs Road in Yorktown Heights, NY. For more information, please call 914.243.2208 or visit http://www.guidingeyes.org.
About Guiding Eyes for the Blind
Guiding Eyes for the Blind (http://www.guidingeyes.org) is an internationally accredited nonprofit guide dog school founded in 1954. Since its inception, Guiding Eyes has grown to be one of the foremost guide dog schools in the world, known for its cutting-edge training programs, commitment to excellence, and dedication to its elite and superbly trained guide dogs. The school provides professional instruction and follow-up support services to the blind at no cost to them, and is dependent upon contributions to fulfill its mission as it does not receive government support. In 2011, Guiding Eyes launched its One Step Ahead campaign, a fundraising drive to raise $8 million to build a world class puppy training academy on its Patterson, N.Y. property. The new facility and redesigned grounds will comprise a unique campus that will set the standard for guide dog training facilities everywhere. Guiding Eyes for the Blind's Headquarters and Training Center is located in Yorktown Heights, N.Y. and its Canine Development Center is in Patterson, N.Y.
Press Contact:
Barbara Wollenberg
Co-Communications
914-666-0066
barbara(at)cocommunications(dot)com
###