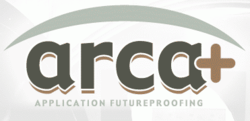 Wakefield, MA (PRWEB) February 09, 2012
Arca Software today announced the availability of Arca+, the application migration solution that makes it easier and cost-effective for businesses to migrate legacy voice systems to open-standards systems with advanced capabilities.
Arca+ plays a key role in making voice system migrations feasible. Having this capability is critical since newer technologies are appealing but require extensive re-development of applications, which is costly and time-consuming. The ability of Arca+ to facilitate migrations means that businesses no longer have to maintain obsolete technology and pay high support and service fees.
Currently Arca+ automates the conversion from Convergys Edify EVIP and end-of-life IQTalk platforms to newer Convergys, Voxeo, and VXML-based platforms. Other migration options will be added, as client needs demand. Using Arca+ enterprises gain the ability to streamline future migrations as advancement in voice technology becomes available. Arca+ does this by splitting the design and development of applications from the platforms they run on. As new technologies emerge, this protects the enterprise's financial and technical investment in these applications.
"By leveraging Arca+, our early-adopter clients reduced their conversion costs by 50 percent," said Arca Software CEO Jay Bolton. "In one specific case, the customer estimated its development costs would have been $365,000, but with Arca+ the company lowered the overall project costs down to $100,000. Arca+ is used to save our clients cost during migrations so there are no licensing or support fees."
Free Cost Analysis
In conjunction with the release of Arca+, Integrated Voice Solutions (IVS), a solution provider now offers a free, no-obligation application audit and cost analysis. Learn more about this free conversion analysis at http://www.integratedvoicesolutions.com/arcaplus/.
"Businesses will see that Arca+ has eliminated the equally-unattractive cost of re-developing voice applications on newer technologies or staying on obsolete and unsupported technology," Christine Edge, CEO of Integrated Voice Solutions, "We can now show our customers how much a redevelopment effort would cost them and how Arca+ allows us to complete the project for significantly less. Our free cost-analysis lets companies best understand their options."
Arca+ Features:

Import applications from existing voice platform or design within Arca+
Modify applications in Arca+ or in the converted code
Export applications to any new platform; Current adapters exist for Convergys Interaction Composer, Voxeo Prophecy, Voxeo VoiceObjects, and VXML 2.0
Store applications in Arca+ for future exports
Maintains design and application synchronization
Offers "Design = Development" so applications can be designed and then run to maximize efficiency
About Arca Software
Arca+ from Arca Software splits the design and development of an application from the platform that it runs on so that as new technology arises, the application investment is protected. Commoditization of technology has left many companies stuck with high annual-support fees associated with legacy systems or being forced to redevelop their applications on open standard-based systems. All of these options are costly and do not leverage the initial investment in creating the applications. Arca+ lowers the cost barrier and allows companies a new way forward. For more information, visit http://www.arcaplus.com.
About Integrated Voice Solutions
Integrated Voice Solutions, a Boston-based company, was founded in 2004 with the goal of coupling a world-class professional services team with a belief that through the acceptance of open standards, clients can maintain technology on their own terms. IVS knowledgeable consultants have core experience in data-access methods; application design and development; and multi-channel implementations. IVS has successfully deployed solutions in market verticals such as call centers, financial services, healthcare, utilities, and retail. For more information, visit http://www.integratedvoicesolutions.com.
# # #