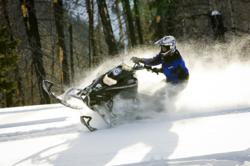 Its different in the trails but in the fresh powder whenever you turn the bars and it doesn't go the way you want it to turn; that's what threw me off the whole day when I was riding. I couldn't make myself do it until the end of the day.
Alpine, Wyoming (PRWEB) February 14, 2012
Josh and Zach Herrin grew up racing Yamaha Sportbikes, excelling in the highest adrenaline power sports segment a gear head can pursue. 180 miles per hour on an R6 around a twisty track was common ground for Josh Herrin. The brothers currently reside in Georgia and decided to switch gears in their off-season and go from the pavement in the south to the powder in the north. GearHead was happy to introduce the Herrin's to snowmobiling especially with the help of Yamaha Coordinator Troy Johnson with Lincoln County Customs.
Burt, GearHead.com, hauled Josh Herrin, Zach Herrin and friends to the Big Hole Mountain Range in southeast Idaho for a warm-up ride. Burt was concerned that sledding would not be near the rush these boys were used to. Josh Herrin warmed up quickly to the 2012 Yamaha Nytro MTX 162. He was racing back and forth on the winding mountain trails at 70-80 MPH. A taste of mountain riding wet their appetites as they found a few meadows and hills to rip through.
Zach's patience ran out after getting stuck in the powder half a dozen times; a common occurrence among beginner snowmobilers. On the open trail it was a different story. The brothers couldn't keep it under 75mph. Burt commented, "I was going for a cruise, Josh was trying to win." The boys weren't quite being challenged. Venturing to high elevation mountains was where they'd test their true ability.
Johnson, Lincoln County Customs, went on the ride to teach the riders snowmobiling techniques. "Josh caught on to the right technique really quickly. They enjoyed the off-trail riding a lot more as they figured out how to counter steer, hill climb and jump. My back wasn't so sore afterwards because they learned how to keep the sled from trenching. It was a lot of fun riding with guys so passionate and down to earth," stated Johnson.
The Herrins loved the mountain snowmobiling when their ability to ride grew quickly as Johnson helped them with the essential snowmobiling techniques as they navigated the Yamaha Nytro MTX. Herrin stated, "I like coming up and doing this stuff in the off-season. Its still good for me; its training basically. If I can do this another couple times before the end of the season that would be really cool. Next year, when I come up, hopefully I'll do a little bit better." Josh and Zach have stated they'd like to making an annual trip to the mountains to improve each year.
About GearHead.com
GearHead.com sells OEM or factory parts for some of the top brands in the nation including: Honda, Yamaha, Kawasaki, Suzuki, Polaris, Arctic Cat, Ski-Doo, Can-Am, and Kymco. Check out the parts we have for your favorite vehicle whether it be Motorcycle parts, ATV parts, Snowmobile parts, Dirt Bike parts, Side-by-Side parts, or Scooter parts.
###