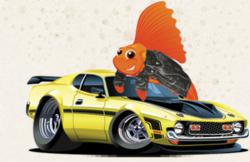 I love the fact that people can be funny without being mean.
Los Angeles, CA (PRWEB) February 06, 2012
RoadFish.com men's lifestyle and finance magazine commends Acura for their witty television commercial that aired during yesterday's Super Bowl, advertising the new Acura NSX. RoadFish's editor today described the advertisement as "hands-down the funniest commercial of this year's Super Bowl," and said they would pay big money to get their hands on one of the luxury supercars.
Acura announced in January its intention to run its first-ever Super Bowl commercial in an effort to resonate to the over 100 million viewers who tune in annually. Acura's executive Vice President and creative director John Hage stated, "The goal is to present a commercial that not only clearly positions the NSX as the ultimate 'must have' sports car, but does it in a way that is memorable, entertaining and aligned with Acura's brand position."
The commercial depicts comedian and actual car enthusiast Jerry Seinfeld's exaggerated efforts to become the first owner of an Acura NSX, bested just seconds before being handed the first set of car keys by fellow comedian and real-life car collector Jay Leno. The commercial has over 15.5 million hits on YouTube as of this morning, and the Wall Street Journal reported that searches for the Acura NSX were up 1,800%, topping any automobile search by far.
RoadFish.com's editor is quoted saying, "I love Jerry. He has been such an integral part of all of our lives for so long. I love the fact that people can be funny without being mean. It also shows just how well a product can be sold and puts to shame lazy marketers who try to cut the corners without really putting in the time to do marketing right."
Acura unveiled the new NSX Concept at the North American Auto Show on January 9th. The first NSX model was a 2-door coupe originally released in 1990 by Japanese automobile maker Honda, but production has been on pause since 2005 due to the economic downfall. The new car will feature a hybrid drivetrain, three electric motors, a V-6 engine, and an all-wheel-drive system.
RoadFish called the hybrid supercar "stunning" and praises the combination of economy-friendliness with luxury.
The new Acura NSX Concept is slated to start up mass production in 2015.
About RoadFish.com
RoadFish.com is an online men's lifestyle and finance magazine targeted toward men in their 30's and 40's that have already attained a moderate level of success in life, and are striving toward more. It goes over current events of interest to this group, such things as exciting adventures, luxury items, living well and finances as well as ways to make more and save more money. It is a publication owned by Purpose Inc.
###