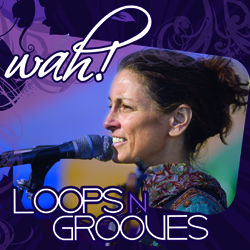 Los Angeles, CA (PRWEB) February 07, 2012
Loops N Grooves, the latest release from internationally renowned yoga music guru, dancer, choreographer and author Wah! will be available on February 7th on Wah! Music. In support of her latest release, Wah! will embark on an international tour, performing more than 40 concerts, yoga workshops and festivals across the United States and Europe.
Blending Eastern-tinged melodies and meditative yoga mantras with decidedly groove-based, ambient beats, Loops N Grooves offers up ten inspired tracks that add an element of electronica to Wah!'s already prolific musical arsenal.
Wah!'s vocals shine on the compelling opening track "Gananatha," while the minimalist, electronic instrumentation "Jai Love" has a calming, almost trancelike effect that brings to mind electronica artists such as KraftWerk and Air. "Shambho" incorporates beatbox and club beats to deliver a dance experience. "Radhe Radhe" uses finger cymbals and sitars over a chilled out, hip hop groove.
"My goal is simple. Through my music, I want to clear my own personal energy and feel lighter when I'm done. I want to bring people with me on that path as they enjoy the music," says Wah!
Wah! – whose name means, "bliss beyond description" is a spiritual pioneer, musician and record label founder who has been touring and recording for over a decade and continues to draw attention in the yoga community and beyond. Celebrated by critics and such media outlets as Yoga Journal, Yoga + Magazine and UK Yoga Magazine among others, Wah! continues to be a worldwide leader and creative wellspring for the yoga community.
"No one leaves a Wah! concert with a heavy heart." – Yoga International Magazine
Wah! kicked off her international tour on January 8th St. Augustine, Florida and will perform more than 40 dates throughout North America and Europe. For a complete listing of tour dates and ticket information, please visit [http://www.wahmusic.com/performances.html
TRACK LIST:
1. Gananatha
2. Jai Ma Love
3. Rada Gopala
4. Kalie Ma
5. Free Ram
6. Shambho
7. Radhe Radhe
8. Cosmic HK
9. Guru Jaya
10. Meaning
For additional information please visit: http://www.wahmusic.com/
About BFM Digital, Inc.
BFM Digital is a global digital music company committed to serving the independent music community and delivering quality music, spoken word and video content to leading online retailers worldwide. Representing a diverse catalog of indie labels, artists and publishers, BFM distributes to all of the major music services including iTunes, Amazon, Rhapsody, eMusic, Napster, Walmart, Nokia and many more. With an unparalleled commitment to personalized service, BFM works closely with their content providers from around the world to ensure maximum exposure of their catalog by customizing marketing efforts and building strong relationships with BFM's digital store partners.
# # #