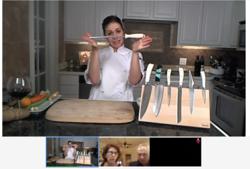 This is a first. Never before could friends and family from locations worldwide, hire a chef to teach them to make something amazing, and then when the chef leaves, dine together, face-to-face, kitchen-to-kitchen via their webcams.
Dallas, TX (PRWEB) February 09, 2012
ChefHangout.com has reinvented the cooking class. For years, the ordinary way to learn how to cook has been to watch a family member or friend, watch TV or a video, go to a local cooking class or, of course, read a cookbook. Today there's a new way to learn how to cook at home and here's how it works.
The company launched as a result of what Google+ has made possible and their video chat tool named Hangouts. This is one of Google's recent TV ads: Google+: Just hanging out together. Google has created a network that hopes to change the way people engage online, and ChefHangout.com has launched the first company of this size whose sole source of revenue at launch is delivered via Hangouts.
This technology is bridging geographical barriers. "Imagine a father in New York, his sons and daughters in different cities with their own families, all spread about the country. They hire a chef to teach them how to make an amazing Italian dinner, and when the chef leaves, they dine together, face to face, kitchen to kitchen, via their webcams. That's amazing," says Joe Saad, founder of ChefHangout.com.
The company was built utilizing the tools of Google+. For months, Saad searched Google+ profiles and interviewed chefs using Hangouts. No interviews ever took place by phone. "We wanted to prove that communication could be managed using Google+ and it worked. It worked much better than email when communicating with the team of chefs."
The experience is much more than the typical cooking class. The ability for customers to use their own equipment and to engage with people from across the world is unique. "I had no idea just how amazing the experience was until I tried it in an early test class. And then watching my mother's face light up when she realized she could gift a class to friends in different cities with one of the chefs was fantastic," says Saad.
About ChefHangout.com
Launched in February of 2012, the company provides online cooking classes via Google+ Hangouts. With two dozen chefs and over sixty classes ranging from Knife Skills to Once a Week Cooking and cuisines like Vegan, Cajun, Italian and Malaysian, the company offers a new way to engage online and an alternative to watching a video for instruction as the chefs are virtually in the kitchen with the customers.
###