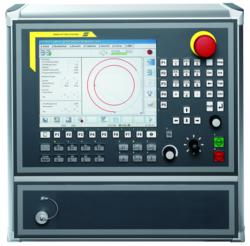 Quick and easy installation!
(PRWEB) February 08, 2012
ESAB Cutting Systems introduces the Vision 51R Control for retrofit onto cutting gantries. Designed to quickly replace older Vision series controls, the Vision 51R controller combines the reliability of a solid-state PC based control with the stability of the Windows® CE operating system. This updated version of ESAB's Vision 51 CNC is re-packaged for quick and easy installation in place of existing Vision controls on ESAB cutting gantries. It is an easy-to-use, highly functional control which can be used to control up to four process tools carrying a variety of cutting and marking processes.
The new Vision 51R is designed to replace single box controls from the Vision 4-Series, including the Vision 500, Vision 1000, Vision 2000, Vision 2000C, and Vision 3000. With simple field wiring and identical mounting configuration, hardware installation is a breeze. There is no faster way to get up and running with a modern CNC than the Vision 51R.
With four tool station controls, the Vision 51R can handle most cutting machine applications. This can include plasma, oxy-fuel, and marker stations in any combination of up to four tools. Existing process control I/O hardware can usually be re-used, keeping overall retrofit cost and installation time to a minimum.
The Vision 51R's Windows operating system lets operators take advantage of features such as networking and USB support to enhance communications and program transfer. It also allows handling of larger, more complex programs. Part program storage capacity is dramatically increased, and calculation time is much faster thanks to the modern PC-based hardware. The Vision 51R's Windows CE 5.0 Operating System is an extremely stable platform developed specifically for industrial control systems, and the solid-state flash-drive storage system uses no rotating media for outstanding hardware reliability. In addition, the controller includes a robust front panel that is completely sealed against dust and moisture.
Operators upgrading from an older Vision control will notice the higher resolution display and color graphics, color-coded graphical menu, 8-position joystick, speed-control, and process control shortcut keys. The Vision 51R includes a built-in shape library with more than 50 shapes, and features an interactive graphical preview with variable lead-in/lead-out capability. The real-time graphics with zoom capability allows easier monitoring of machine status, and many other features help increase productivity and make operation easier.
Designed for retrofitting, with matching mounting holes and all electronics built into the operator console, the Vision 51R is quickly mounted in place of older Vision controls, including the Vision 500, Vision 1000, and Vision 2000. Depending on the original machine's electrical systems, the Vision 51R is capable of fully integrating all process controls for every cutting or marking tool, making operation quicker and easier for every machine. The Built-In Process Database can simplify cutting tool setup by automatically setting parameters such as cutting speed, kerf offset, and timers based on material thickness, material type and cut quality desired. The operator sees a picture and part number for the torch parts that are needed for both plasma and oxy-fuel torches. All cutting and marking tools can be controlled directly on the touch-screen.
With more than 100 years of experience, ESAB Welding & Cutting Products is one of the world's largest and most skilled manufacturers of welding and cutting equipment and welding filler metals. Recognized as the technological leader in the industry, ESAB is committed to providing customized solutions for their customers. For more information, visit http://www.esab-cutting.com or call 1-800-ESAB123.
# # #