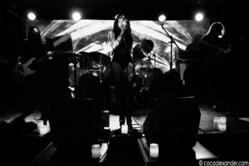 "Vajra - Music with passion. Kudos for creating some music different from everything out there at the moment. -Holly Hutchison (former A&R Executive at Capitol Records & Atlantic Records)
New York, New York (PRWEB) February 07, 2012
It's the year of the Dragon but Vajra is breathing its own fire. On Friday, January 27, this new hot band played to an over-capacity crowd at The Mercury Lounge in NYC. An eager crowd lined the streets, but only advance ticket holders were allowed to enter. "I had friends from India who were texting me that they couldn't get in. I was blown away!" Annamaria stated. "And we were the opening act!" Vajra opened for Killcode, and was followed by Starkiller, The Compulsions and Stoned Fire. The venue was packed the entire evening, proving that the NYC music scene is sizzling.
Performing music from their debut album "Pleroma", a haunting exploration of paradox, Vajra mesmerized their audience with a series of dark and hypnotic songs written during Annamaria Pinna's self-imposed exile in India. Eastern Indian themes wove together with melodic, progressive rock creating foreboding and mysterious lullabies, and a stunning new sound.
Annamaria's powerful vocals are highlighted by Blake Fleming (ex-The Mars Volta) on drums, Doug Wright (The Dirty Pearls) on bass, and Will Dahl (ex-Harley's War) on guitar. The multi-media show included visuals from projectionist Neon Meow, featuring the art of Kaliptus Wulfgeng.and Reven Noir.
Vajra's vocals were co-produced and mixed by Sylvia Massy (Tool, System of A Down, Prince, Johnny Cash. Tom Baker (NIN, Foo Fighters, Ministry, Prince) mastered.
The band is quickly generating a buzz after releasing their first single "Inside The Flame". Virgin America selected Vajra's single "Erode The Will" for their In-Flight Entertainment Series, and Vajra's music is showcased on various internet radio stations, syndicated shows, podcasts, and music websites. In March, the band is invited to play two shows at SXSW in Austin. Details will be announced soon.
"Any good band, no matter what the sex of their vocalist, starts with a musician. Someone who can feel the soul inside of music, who can conjure music from their own soul, and express it somehow. Annamaria Pinna is not only a talented musician, but one hell of a conjurer as well. In her voice, there is not only emotion, but power, truth, a sort of sense that there is more to music than just what we can hear. Vajra does not rely on Pinna's presence, or even her strong voice - it's clear that the band works as one to create their sound. The music itself is atmospheric, at once ethereal yet stirring. Part of you wants to meditate, part of you wants to move, go out, do things. Just as that paradox exists, there is also a paradox of hard and soft in Vajra's sound. It's the kind of music that means something different for each listener, in every different situation it's listened to. Vajra have created a world of sound that never falls short of what it promises. "

Kamilah Varushka, Catastrophe Ballerina (Jan 07, 2012)
"Every now and again, we come across someone amazing – someone who is actually worth our three or four minutes of play. … Vajra is definitely one of those extraordinary bands. They are a combination of genres we were not expecting."

Through The Sound Barrier (Jan 03, 2012)
"If you like bands like Siouxsie and the Banshees or Morcheeba or are just looking for something different, this is it. They performed with a grace that will float you to another world. Vajra is here and I hope they will stay for a long time."
-Swarm Magazine (Dec 1, 2011)
"Vajra - Music with passion. Kudos for creating some music different from everything out there at the moment. There is flavor from other cultures embedded in the music giving it depth and an exotic feel. The artist has an interesting story about their background which seems evident in the sonics and style of their music. It takes me back to the creativity of Kate Bush. I want to see where this artist goes in the future."

Holly Hutchison (former A&R Executive at Capitol Records & Atlantic Records)
"Vajra was formed by composer, singer and multi-instrumentalist, Annamaria Pinna …[while living] in India, and you can indeed hear an exotic influence in her songs, which though carry a very western tension and darkness. Overall her uptempo music could be described like an alt-rock version of Dead Can Dance. We are sure there is a numerous group of teenagers somewhere in the US suburbs who can fall in love with this lady and her tenebrous music."

The Deli Magazine NYC, The Deli Magazine NYC (Oct 07, 2011)
"Newcomer Vajra to Set Underground NYC Music Scene Ablaze: Debut Single "Inside The Flame" Released, Vajra's First Album "Pleroma" to Follow in Spring 2012...."

Yahoo News (Sep 13, 2011)
"Take a trip to India with Vajra. You want something new? This is It"

Through the Sound Barrier (Aug 18, 2011)
Vajra currently does not have a record deal.
For more info about Vajra, please go to the following pages at:
http://www.thevajratemple.com
http://www.reverbnation.com/vajra
http://www.facebook.com/vajratemple
http://www.twitter.com/vajratemple
http://www.myspace.com/vajratemple
http://www.vajratemple.bandcamp.com
The singles, "Inside The Flame" and "Erode The Will" are available on Itunes here: http://itunes.apple.com/us/artist/vajra/id458093151
###