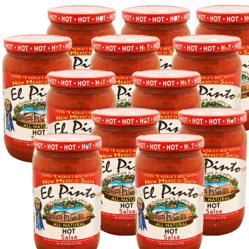 Buy your salsa online and have it delivered to your door straight from New Mexico. - Jim Thomas, El Pinto Restaurant
Albuquerque, New Mexico (PRWEB) February 06, 2012
El Pinto Restaurant in Albuquerque, New Mexico is known for its authentic New Mexican cuisine for 50 years. El Pinto makes it easy for consumers to buy salsa online with daily shipments to households nationwide for $5.95 flat rate for one week only. For individuals that crave Hatch green chile, El Pinto has green chile and red chile available to buy online.The $5.95 shipping special is good for one week only (expiring 2/14/2012) and is for orders of 6 or more jars.
Food in Albuquerque New Mexico has a distinctive flavor as New Mexican cuisine is a distinctive type of food characterized by use of red and green chile. Locating places to buy salsa online or buy green chile online that specialize in authentic New Mexican cuisine can be difficult. El Pinto Restaurant makes it's award winning salsa and green chile accessible to everyone in the United States. If you cannot locate El Pinto salsa in your local grocery store, go to http://www.elpinto.com to buy salsa online.
"El Pinto has a 50-year tradition in making quality and fresh New Mexican cuisine," said John Thomas, co-owner of El Pinto Restaurant along with his twin brother Jim Thomas. "Our tradition was started by my grandmother, and her recipes continue to make hearts happy with flavorful green chile and outstanding New Mexican cuisine to this day."
El Pinto salsa and green chile is all gluten free and lacks any additives or preservatives making it the healthy choice. The salsa and green chile is jarred in a factory located behind El Pinto Restaurant where you can find John and Jim Thomas, known as the Salsa Twins, most days overseeing the operations of the restaurant and salsa company.
"For a taste of New Mexico enjoy El Pinto which can be found in grocery stores nationwide," said Jim Thomas. "But there is nothing wrong with enjoying the convenience of shopping from your home. Buy your salsa online and have it delivered to your door straight from New Mexico."
About El Pinto Restaurant & Cantina:
Established 50-years ago, El Pinto is a quintessential icon for New Mexican cuisine. Conveniently located in the North Valley of Albuquerque just off I-25, the serene patios located under beautiful cottonwood trees provide an iconic experience. El Pinto is known nationally for its fire-roasted green chile and fresh flavorful salsa distributed across the national in local grocery stores. You can buy El Pinto salsa online at ElPinto.com. The salsa and green chile factory is located on the same grounds as the restaurant. For an authentic taste of New Mexico, visit El Pinto for its iconic food, traditional margaritas, and award winning chile. http://www.elpinto.com
###