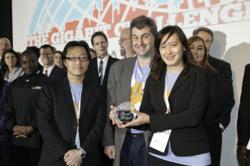 Chicago, IL (PRWEB) February 07, 2012
Kauzu took home the $250,000 Gramercy Private Equity "Born Global" Award at the recent Gigabit Challenge Finale event in Kansas City, Missouri. The Gigabit Challenge is a global business plan competition that was created "to find disruptive ideas that will turn the tech industry upside-down," according to event organizers.
"Winning the Gramercy 'Born Global' Award provides further validation that our idea is on target and that our solution will address the needs of job seekers and employers globally," said Kauzu founder and CEO Mitch Schneider. "Without a job, it is hard to survive both financially and emotionally. We want to give greater power and access to front line job seekers through a solution that is far more effective than the alternatives currently available. We also will create value and opportunities to improve the hiring process for employers."
"Kauzu is developing a holistic employment tool that meets the needs of everyone involved. That is true empowerment," said Schneider. "Kauzu's solution also addresses the reality that the resume is dead."
The Gramercy Private Equity "Born Global" Award was presented to the Gigabit Challenge Finalist whose business plan best demonstrates the potential to go global rapidly. The prize was offered in the form of a $250,000 convertible promissory note.
"We are very pleased to support Kauzu in their mission as their first external investor," said Michael Gale, CEO and Managing Partner of Gramercy Private Equity. "We were impressed not only with their opportunity and business strategy, but also with their ability to effectively bootstrap a lean startup. We felt that the Kauzu team has the best prospects of executing on their plan. We look forward to working with them to make their global expansion a success."
"While we are proud of Kansas City, we recognize that the best ideas can come from anywhere in the world," said Herb Sih, co-founder of Think Big Partners, organizer of The Gigabit Challenge. "Our goal was to find the most promising, commercially viable business ideas to take advantage of the ultra-high-speed Google Fiber network. We would like to congratulate Kauzu on winning the 'Born Global' Award."
The Gigabit Challenge Finale, which took place on January 18, 2012 at the Kansas City Public Library, focused on finding unique applications that would be enabled by Google's first-in-the-nation 1-Gigabit Fiber network. Individuals, teams or businesses with an idea were invited to enter the competition for a chance to work on the Google Fiber network and present their plan to a panel of esteemed judges.
The Gigabit Challenge attracted 113 contestants from seven countries and 22 states. Seventeen finalists pitched their ideas to seventeen judges at The Gigabit Challenge Finale.
About Gramercy Private Equity
Gramercy Private Equity (GPE) is an innovative worldwide investment firm that is riding the wave of globalization of entrepreneurship in the information technology and sustainable business sectors. GPE not only provides capital, but also contributes deep international business experience and resources developed over three decades. GPE works hands-on with its portfolio companies to develop their expansion strategies and execute them. GPE focuses on investing in companies that have either proven their business model in their home market and are poised for international expansion, or are "born global" and can be taken into multiple geographies rapidly after founding. GPE often invests in portfolio companies via Special Purpose Private Equity Funds (SPPEFs), which enable Angel investors to participate in the financings. GPE works around the globe, with a special focus on Asia and an emerging focus on Africa. To learn more about Gramercy Private Equity, please visit http://www.gramercype.com.
About Think Big Partners
Think Big Partners is an early-stage startup accelerator and mentorship-based collaborative network located in Kansas City, Missouri. Think Big Partners has helped to successfully launch or grow over 100 successful companies with its creation of coworking spaces, entrepreneurial conferences, essential services, startup resources and funding. To learn more about Think Big Partners, please visit http://www.thinkbigpartners.com.
About Kauzu
Kauzu (kawz-ooh) is a US internet startup that was established in September 2011 and will roll out its first employment solution product this spring. Kauzu is the Esperanto word for "cause" and reflects the company's focus on empowering people by creating social change in the job search and placement process. Kauzu's solution looks holistically at people, relationships and cultures to address the reality that the resume is dead. To learn more about Kauzu, please visit http://www.kauzu.com.
###