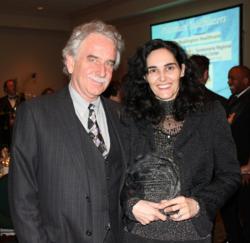 I am honored to have helped the Chamber stand up and to chair its Green Business Initiatives effort
Fredericksburg, VA (PRWEB) February 07, 2012
At its annual Awards and Chamber Gala held Friday, January 27th evening, the Fredericksburg Regional Chamber of Commerce named Rebecca R. Rubin, founder and President of the Fredericksburg-based environmental and conservation consulting firm Marstel-Day, LLC (http://www.marstel-day.com) as recipient of its 2011 "Entrepreneur of the Year" award.
Nominees were judged on the basis of multiple factors, including the uniqueness of the person's business within their industry niche or market; the significant accomplishments of the nominee in using new or innovative leadership approaches or overcoming business challenges; the uniqueness of the nominee's relationship with her customers and/or her employees; and, the community involvement of the nominee.
Ms. Rubin expressed her gratification that "this award comes at the same time the Company is contemplating how best to celebrate its 10th year of business success – a success born out of not being afraid to look at the hard questions and apply fresh ideas in solving environmental and land use issues to benefit and sustain the environment, conserve resources, and help our clients meet their mission requirements. I am honored to have helped the Chamber stand up and to chair its Green Business Initiatives effort, as I believe small businesses can make a truly significant and – often overlooked – impact on conserving our environment and addressing our climate challenges."
Ms. Rubin serves as a mentor for the Chamber's "Leadership Fredericksburg" program and chairs the Chamber's "Green Business Initiatives Advisory Commission," which helps businesses to find ways to conserve resources and strengthen their bottom line.
###