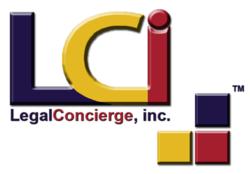 We Focus on the Details So You Can Focus on the Case
(PRWEB) February 20, 2012
Fraud: Americans turn on the television and are bombarded with juicy details of the latest fraudulent scandals. In politics, in business, in marriages and even in the deaths of loved ones, Americans are faced with examples of fraudulent behavior, some actions are illegal and some are immoral. LCI® is here to help with the launch of its new White Collar Fraud Division.
The term "white-collar crime" was first coined by Edwin Sutherland in 1939. Within the field of criminology, "white collar crime" is "a crime committed by a person of respectability and high social status in the course of his occupation."
Individuals committing white collar crimes are becoming more and more predominant, sometimes a person finds that they are in a position of power and use an organization to commit vast fraud. More often, an individual is trying to hurt another individual or a company through illegal behavior.
Legal Concierge's White Collar Fraud Division will bring the peace of mind needed, knowing someone is working on your case. LCI's goal is to deliver all the resources needed to stop white collar fraud.
LCI® offers investigators, experts and asset searches, everything needed to prove your case so justice can prevail.
LCI's Services include:

Accident Reconstruction
Asset Searches and Recovery
Attorneys – Specializing in White Collar Crimes and Collections
Computer Forensics and Recovery Specialist
Employee Fraud/Theft Discovery
Forensic Accounting and Review
Handwriting and Document Review Experts
Investigative Services
Medicare Fraud Reporting
Process Service
SEC Record Search
The division is overseen by Peggy Tracy, Ptracy(at)legalci(dot)com
Peggy is a Certified Fraud Examiner: Peggy received a B.A. in Finance from Mundelein College and an M.B.A. from Loyola University. Peggy has numerous professional credentials and she is regularly invited to speak on fraud detection and prevention issues on television and radio shows across the U.S. For Peggy's full bio go to http://www.legalci.com
For a list of white collar crimes please call or email LCI today!
Telephone: 866-396-7034 fraud(at)legalci(dot)com or visit us at http://www.legalci.com
# # #