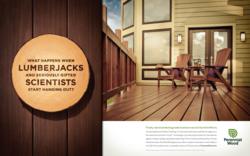 From the first moment that we learned about this revolutionary new product, we were fired up about the opportunity to help bring it to market.
Madison, Wisconsin (PRWEB) February 08, 2012
Shine Advertising Co. has been named agency of record for Perennial Wood, a revolutionary new decking brand being launched by Eastman Chemical Company. Hired in September of 2010, the news of both the engagement and campaign have been under wraps due to the confidential nature of the new product launch. Shine was hired after a formal review of agencies from across the country.
"This was Eastman's first major foray into the consumer arena," said Deborah Baum Crain, platform director for Perennial Wood at Eastman. "As such, we were looking for a strategic resource that both understood the shelter category as well as how to launch a consumer brand from the ground up. On the creative side, we wanted an agency that could help us make a complex story simple, emotional, and powerful. We hired the right partner in Shine on every part of the equation."
Perennial Wood is a revolutionary new building material that has been in development by Eastman for several years. Perennial Wood is real wood (made from southern pine, a renewable resource) that is modified throughout at the molecular level to resist the effects of the elements. Perennial Wood provides consumers with the best of both worlds for their decks — the beauty of real wood, with long-lasting performance previously seen only in composites or other materials. The product will be available in DMAs throughout the Northeast, both on-shelf at Lowe's and available through dealer networks via Boston Cedar.
"In selecting Shine, we knew we would get smart thinking, not only in the brand development arena, but in creative executions as well," said Jim Flickinger, market development manager, decking. "Not only did they deliver on all of our expectations, but they have truly been a partner at every step of the process — from helping us answer key questions regarding our brand architecture and marketing investment to developing breakthrough creative at virtually every point of contact with consumers and pros."
Shine's services for the campaign, slated to break in February, have included marketing and brand planning, logo and brand identity, television, website, print, videos, social media, public relations, collateral, media planning and buying.
"From the first moment that we learned about this revolutionary new product, we were fired up about the opportunity to help bring it to market," said Curt Hanke, Shine co-founder and executive account director. "As with any successful new product launch, it has been imperative that we find the optimal way to bring Perennial Wood to life — and we're tremendously proud of how we've 'bottled the magic' with our partners at Eastman."
Television creative for the campaign features the product front and center — opening on a long pan of wood, with animated scenes from nature that the product is designed to protect against. "What if there were a wood that's better than wood?" the spot asks, while panning over scenes of rainfall, snow and heat (animated on the actual wood itself) as the voiceover touts Perennial Wood's key benefits of resisting rotting, combating cracking, and defending against warping and cracking. "Now there is," the spot concludes, pulling back to reveal a couple relaxing on their beautiful deck, made of worry-free Perennial Wood.
Spread print creative includes headlines such as, "What happens when lumberjacks and seriously gifted scientists start hanging out?"
"Our challenge was simple," said Mike Kriefski, Shine co-founder and executive creative director. "Find a way help consumers quickly understand that this product is truly different — that beauty and performance can coexist — and to do so in a way that was as smart and premium as the Perennial Wood brand. We believe we've done just that."
Television will run on both network and cable in targeted DMAs; print will run in regional issues of consumer publications such as Better Homes & Gardens, Martha Stewart Living, Elle Décor, House Beautiful, Real Simple, and This Old House.
About Shine
Shine is a $37 million advertising, design and interactive agency located in Madison, Wisconsin. The privately held company's client roster includes national consumer brands such as Harley-Davidson, Carver Yachts, Wisconsin Cheese and Winston Fly Rods. Learn more at http://www.shinenorth.com. Shine on.
About Eastman
Eastman's chemicals, fibers and plastics are used as key ingredients in products that people use every day. Approximately 10,000 Eastman employees around the world blend technical expertise and innovation to deliver practical solutions. Eastman is committed to finding sustainable business opportunities within the diverse markets and geographies it serves. A global company headquartered in Kingsport, Tennessee, USA, Eastman had 2011 sales of $7.2 billion. For more information, visit http://www.eastman.com.
###