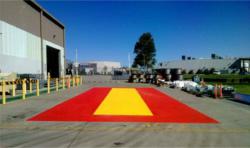 By offering the complete package, the end result is better, the client is happy and cost to the client is significantly reduced
Sydney, NSW (PRWEB) February 08, 2012
Aline Line Marking Sydney has expanded from line marking solutions to alternative industrial flooring solutions. The increased demand for Occupational Health and Safety compliance has forced clients to consider more long term solutions.
The paints used by Aline line marking are all RTA approved and are still the number one choice for most occupational health and safety markings. These paints are very durable and probably the most economical option, however, there are situations where a more durable or aesthetically pleasing product is required. These alternative products carry a higher price tag but over the long term have proven to be the more economical option due to low maintenance.
Aline line marking has included epoxy coatings, polyurethane coatings and concrete re-surfacing to its range of products and services. These products are nothing new to the market, and there are other contractors that can apply them. The difference is that most contractors can't offer the entire range.
Aline line marking has found that clients prefer to deal with one company for their entire flooring solutions rather than having to call in individual contractors which can be a logistical nightmare. Their managing director says, "By offering the complete package, the end result is better, the client is happy and cost to the client is significantly reduced".
Some examples of where these products act as an alternative are workshop floors, where heavy traffic and oil and grease stains are a regular problem, warehouse line marking, where heavy forklift traffic anti anti slip solutions need to be addressed and commercial kitchens where oil, grease and food stains are an issue.
Occupational Health and Safety compliance is not just limited to industry, it applies to residential as well. Aline line marking understand that in modern residential complexes aesthetics play a big role as well as compliance. They realize that services such as concrete resurfacing and epoxy coatings combined with traditional line marking can offer creative, attractive and practical long term solutions.
###