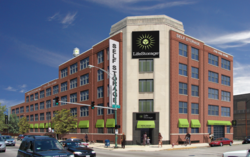 We encourage everyone that's looking for storage to stop by one of our locations and see what LifeStorage is about
Chicago, IL (PRWEB) February 08, 2012
LifeStorage, Chicago storage provider for home and business, records management and office solutions, is excited to announce its participation in the Score Originals program as one of the premiere sponsors of WSCR 670 The Score, a Chicago-based sports-talk radio station. The Score is part of CBS radio and is celebrating its 20th year on the air. As a Score Original, LifeStorage will be featured for the entire 2012 year on http://www.scoreoriginals.com, which can be accessed through the CBS Chicago website (http://chicago.cbslocal.com), with the spotlight exclusively on LifeStorage in the month of May.
During LifeStorage's exclusive month, it will receive 15 30-second on-air promotional spots on The Score 670 telling the company's story. Iwona Lach, Marketing Coordinator for LifeStorage, is excited about the chance and sees this as an opportunity to not only help spread the word on the LifeStorage brand, but to also show that the company is positioned to continue establishing itself as Chicago's premiere self-storage provider.
"We've worked tremendously hard since we began in 2002 to establish ourselves as the next level of storage solutions. LifeStorage continues to expand because we offer affordable climate-controlled storage, office solutions, document services and high-end facilities that highlight our attention to customer care and comfort," Lach said.
"Working with CBS and The Score is another way we can reach more customers and help expand our brand in the city where we started and love doing business. The month of May is a great fit for LifeStorage when we can hopefully maximize the spring weather and introduce folks that are moving to our expansive suite of solutions."
LifeStorage currently has 17 Chicagoland locations with two more locations opening later this year. From an aggressive marketing campaign that began last year with television and radio commercials to the partnership with The Score, LifeStorage plans to continue its momentum through this year and well into the future.
"There's no such thing as overexposure when it comes to getting your brand out there. As a Score Original, we're proud to help celebrate the radio station's 20th year anniversary, and we're planning on a great 2012 for LifeStorage. We encourage everyone that's looking for storage to stop by one of our locations and see what LifeStorage is about," Lach said.
###