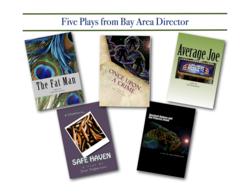 In each of the plays the characters relate to life, they're adventurous with bits of silliness and mystery, in addition... no story is complete without a touch of romance
Petaluma, CA (PRWEB) February 15, 2012
Long time Theater Director and Actor in the San Francisco Bay Area, John DeGaetano takes a stab at creating some brand new twists for the stage covering comedy, mystery and other situations common to everyday lives by releasing five new original works. DeGaetano, currently in production with Chicago the Musical at the Raven Theater in Healdsburg CA has stirred a buzz in addition to just completing the series with such titles as The Fat Man, Average Joe, Once Upon a Crime, A situation in Safe Haven and even a completely new story for an iconic character in Sherlock Holmes and the Princess Jewel.
"In my mind, there's always something missing in the staged productions I've seen over the years, the timing, the actor's style and commitment to character, the movement" states DeGaetano, northern California resident and President of a North Bay theater company. "In the series I've attempted to touch upon this in addition to personal interactions that each of us have experienced, make the characters relate to life, make them adventurous, add a bit of silliness and then again, understand that no story could be complete without a touch of romance."
John's directorial credits include such successful musical productions as Cats, The Pirates of Penzance and Chicago in several venues throughout the North Bay. All play titles are now available on Amazon.com and for stage productions. For more information email: degaetanojohn(at)yahoo(dot)com or call 707-338-2886.
http://www.amazon.com/s/ref=nb_sb_noss?url=search-alias%3Dstripbooks&field-keywords=john+degaetano&x=0&y=0
###