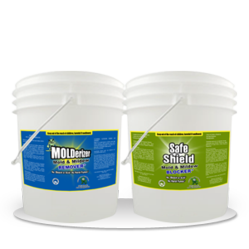 We're working closely with hotels currently. We expanded our reach to help hotels with mold problems that simply will not go away by offering the Molderizer Kit, our mold guides and webinars to help avoid costly mold remediation and legal battles.
Houston, Texas (PRWEB) February 07, 2012
Just recently, a women in Galveston County, in Houston Texas is suing a hotel due to toxic black mold poisoning. After back and forth debate, Molderizer.com estimates the hotel may lose $1,000s because of the alleged mold outbreak. Not to mention, the costs involved in completing a full mold inspection and mold remediation. Molderizer.com is reaching out with a mold remediation product, which hotel owners can spray through their hotel, including the A/C system to clean and prevent future mold amplification.
Read about how the mold battle is beginning and now heading into the court room for this hotel owner.
Friendswood resident Stacy Johnson is suing Park Management Group and Sun Suites Interests alleging she was sickened by toxic mold in a hotel room.
Johnson's lawsuit, filed Feb. 1 in Galveston County Court at Law No. 1, alleges the plaintiff fell ill on Aug. 3, 2010, as a result of toxic mold found in a room at Sun Suites of Clear Lake in Houston.
Park Management Group was responsible for the safety and habitable state of the rooms at the property in question while Sun Suites Interests owned said property, the suit says.
The original petition shows subsequent tests confirmed that the mold was in Johnson's room and it was recommended that she not stay in the room.
According to the complainant, the defendants "knew or should have known that the dangerous condition, toxic mold, existed on said premises, but failed to warn and/or failed to correct the said dangerous condition."
"The toxic mold caused the plaintiff's personal injuries and property damage in question," the suit says.
Johnson consequently sues for physical pain, mental anguish, physical impairment, loss of earnings and medical expenses and seeks a jury trial."
She is represented by Hagood, Neumann & Huckeba LLP. The case has been assigned to Galveston County Court at Law No. 1 Judge John Grady.
Cause No. 66,881
Read the full story at: http://www.molderizer.com/348/hotel-sued-black-mold/
Molderizer.com is reaching out to hotel owners to help avoid these catastrophic loses due to mold and its hotel guests. The company have recently made public their Molderizer and Safe Shield mold kits. Both products are green, non-toxic mold cleaners and prevention products. Molderizer.com claims to save its clients in the hotel industry $1,000s by avoiding to do extensive remediation.
Molderizer is a non-toxic mold remediation product which breaks apart the mold DNA. Thus, giving it a 100% success rate when applied directly onto mold.
The second formula in the Molderizer Kit, which is being offering in a sample pack, is called Safe Shield. This mold remediation product cleans mold as well, but more importantly creates a clear barrier on any surface to prevent future amplification.
Molderizer.com states it has just renewed their agreements with its private clients to now allow them to release its product to the public.
Currently, the company is offering a complimentary sample of these products to help subside costs. If you are interested be sure to grab your complimentary sample included in your mold kit at http://www.Molderizer.com
###