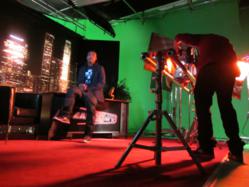 Loyal isn't just our name, but as is evidenced by 51 Minds support of the new facility, it is also our philosophy - Bob Bekian, founder of Loyal Studios
Burbank, CA (PRWEB) February 07, 2012
Loyal Studios has recently launched a new post production facility in Burbank, CA in addition to their Santa Monica studio. The new facility features a 1950's style diner interior, a producer/client area, a full kitchen, two circa 1980's arcade machines, a VIP dressing room, as well as the premier green screen pre-lit studio. Specializing in green screen and white green HD digital production, the new studio also offers versatility with New York sets, additional flats and backgrounds, and 75 HD cameras. A straightforward price is offered including 5 ton grip and lighting package, an experienced assistant, pre-lit cycloramas, and clean and professional facilities. The new post facility includes a trans-coding station, multi-camera control room, Final Cut Pro and Avid editing systems, color correction and after effects. "We realized that with the file-based workflows in todays productions, the need to have a file management system on-set can be very helpful" notes Bob Bekian CEO of Loyal Studios. With the large amount of content being converted to V.O.D. (video on demand) and also content needing to be archived to L.T.O. format, Loyal Studios can now fulfill those requirements.
The opening of the Burbank facility was marked with the appearance of Brandy and Ray J for VH-1's hit show "Family Business." The two stars came in to shoot some interview clips which was produced by Loyal client 51 Minds.
"Loyal isn't just our name, but as is evidenced by 51 Minds support of the new facility, it is also our philosophy, and we strive to make our clients comfortable, accommodated, appreciated and respected. It's our service that sets us apart. And our name that makes us special."
For more information about Loyal Studios one-stop production center, please visit http://www.loyalstudios.tv or call 818 450 1115.
###