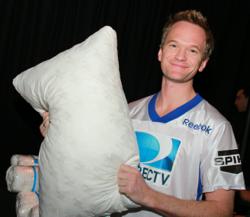 Indianapolis, Indiana (PRWEB) February 07, 2012
GBK and DIRECTV honored this annual weekend of American tradition and sportsmanship with an A-list line up of celebrities and athlete icons, featuring a gift lounge event that proved to be the "must" destination for celebrities. Deion Sanders was overheard saying, "this was the best gift lounge of the weekend" and Neil Patrick Harris said "I love GBK Gift Lounges".
Over 40 DIRECTV Celebrity Beach Bowl players and participants received luxury items from GBK, including the event's powerhouse performers: DJ Pauly D who got the players dancing on the sand with his energetic DJ style, The Fray – closing the game with their live performance and Katy Perry who rocked the evening party with an hour long, incredible performance making DIRECTV's party one of the weekend's top Super Bowl events.
GBK, the recipient of multiple BizBash Awards for "Best Gift Bag," presented a number of premium products to DIRECTV's invited celebrities, VIP's, sport figures and media. "The talent was very excited about the caliber of sponsors", stated Gavin Keilly, Founder/CEO of GBK. Some of the talent included Snoop Dogg, Neil Patrick Harris, Chace Crawford, David Arquette, Deion Sanders, Hall of Fame Quarterback Joe Montana, Jesse Williams, Jordin Sparks, Matthew Stafford, Nina Dobrev, Maria Menunos, and many others.
Guests received a variety of products including one of the lounge's top celebrity favorites My Pillow Guaranteed the most comfortable pillow you'll ever own; Nature's Best providing their Zero Carb Isopure Creamy Vanilla; Motorola Super Bowl XLVI special edition MOTOACTV GPS fitness tracker and smart MP3 player; Izlla Rose Green Tea Facial Exfoliate Cleanser; Max Mirani MOVE Mobile Closet, a brilliant 2-in-1 cabin-size suitcase; Keratin Complex, giving a luxe sampling of their favorite Keratin Complex tools and products; Marchon Eyewear, Inc., giving out Sunglasses by Lacoste Eyewear; and iHip NFL Earbuds and Headphones, certainly a hit of the lounge as each guest was able to pick a set of headphones with their favorite NFL team Logo on it.
Other sponsors and gifts include: a year supply of UP2U Gum By Mentos, a revolutionary gum that creates a "choice" for each consumer by offering two different flavors in one slim, attractive pack; newly formulated RevitaLash ADVANCED and many of the brand's popular items such as RevitaBrow, Hair by RevitaLash, Mascara and Perfect Primer; T-Mobile 2 line cordless phone system; BEST of LEGACY, customized giant leather scrapbooks with their personal press clippings; Caribbean Living Magazine providing a 1 week stay in the Caribbean at one of their luxury resorts; and to top off the event, The Flying Cupcake, Indiana's original and most popular cupcake bakery, provided a variety of delectable cupcakes onsite for guests to enjoy as well as some fun cupcake-flavored gifts.
###