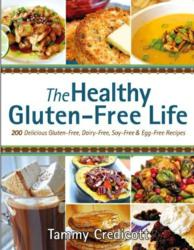 I see a lot of people who have gluten issues. This book will provide them with the tools to adjust to a gluten-free life.
Portland, OR (PRWEB) February 07, 2012
In The Healthy Gluten Free Life, debut author Tammy Credicott sets out to prove that living a healthy, gluten-free life is easy and budget-friendly. Gluten is a protein found in wheat, barley, and rye that's been linked to several food allergies and has become a target of the health-conscious crowd. Following a gluten-free diet is a mainstream phenomenon, but for those with Celiac disease or a gluten intolerance it's not just a choice, but a necessity.
The only cure for Celiac disease or a gluten intolerance is a strict gluten-free lifestyle, but since gluten is present in so many processed foods and not always labeled correctly, it can be difficult to adhere to. So how does someone who cannot, or will not, eat gluten find healthy foods that are safe and actually taste great?
By giving detailed instructions and a host of tips on everything from choosing quality ingredients to time-saving techniques on make-ahead meals, Credicott seeks to get people back into the kitchen to enjoy healthy cooking with The Healthy Gluten-Free Life.
"This book was created as part of a journey to good health," says Credicott. "I see a lot of people who have gluten issues. Unfortunately they switch from eating a nutritionally empty standard American diet to eating a nutritionally empty gluten-free diet because they just don't really know how to adjust. This book will provide them with the tools they need to do so."
The secret is in the flour. Instead of recipes filled with white rice flour and starches, which have no nutritional value, Credicott uses nutrient dense flours such as sorghum and teff along with whole, natural foods. In addition, each recipe is accompanied by high resolution color photographs and is not only gluten-free, but also egg free, dairy free, soy free, white rice flour free, and bean flour free.
"More and more people are discovering the vitally important fact that reactions to
these foods can cause numerous health problems," says Doctor Stephen Wangen, author of Healthier Without Wheat. "This wonderful book is about so much more than just avoiding them; it's a practical guide to living life and preparing truly healthy and enjoyable food. I highly recommend it to my patients."
Beyond the recipes, The Healthy Gluten Free Life addresses how to choose flours, replace dairy and eggs and differentiate between the multiple gluten-free flours and starches on the market.
"With this book I hope to help guide people in making better, healthier choices in the confusing world of multi-allergen cooking," Credicott says. "I hope to help them finally take control of their family's health and dinner table!"
Tammy Credicott is a uniquely qualified recipe developer. A part-time blogger, full time entrepreneur, and the wife of a sufferer of Celiac disease, she's also mother to two girls with gluten, dairy and egg intolerances.
Living in Bend, Oregon, Credicott created the successful gluten free, dairy free, egg free wholesale bakery, The Celiac Maniac. A self-taught home cook extraordinaire and Food Network junkie, she has transformed her family's health with the creation of simple, healthy allergy friendly recipes that fit their busy lifestyle.
The Healthy Gluten Free Life is available on February 21st at all major booksellers and is available for pre-order now on Amazon.com. It is the latest in a line of bestselling books from Victory Belt Publications that includes The Paleo Solution by Robb Wolf and Everyday Paleo by Sarah Fragoso.
Learn more about Tammy and the book at http://www.thehealthyglutenfreelife.com.
Follow Tammy on twitter @theceliacmaniac
On facebook at http://www.facebook.com/celiacmaniac
# # #