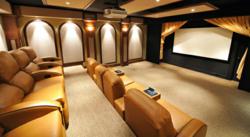 With so many sources of radiation surrounding us on a daily basis, such as microwave ovens, cell phones and home networks, we recommend to minimize the exposure and distance yourself from such objects
Baltimore, MD (PRWEB) February 07, 2012
With the biggest game of the year over, Down to Earth Communications, Inc. suggests giving the strained eyes a rest by engaging in safe TV watching practices. Expert in home electronics with more than 15 years of experience, Down to Earth Communications, Inc. has performed many TV and home theater installations in Maryland.
According to the 2011 Nielsen study, average American spends eight hours per day looking at some kind of screen, whether it's a computer monitor, cell phone or a tablet. However, the lion's share of this screen-staring activity, six-and-a-half hours, is spent watching TV.
There is no evidence of human injury from TV consumption; however, it is an established fact that television sets emit minimal amounts of radiation, according to the Environmental Protection Agency (EPA). Older cathode-ray-tube (CRT) televisions produce low-level x-rays, and modern flat screens produce electromagnetic radiation.
"With so many sources of radiation surrounding us on a daily basis, such as microwave ovens, cell phones and home networks, we recommend to minimize the exposure and distance yourself from such objects," – said Chris Phillips, the president of Down to Earth Communications, Inc.
A growing number of doctors agree that sitting too close to the TV can cause eyestrain in adults and nearsightedness (aka myopia) in kids, according to the 2009 study in the Archives of Ophthalmology that indicated increase in myopia rates.
According to the experts, there is no single recommended distance to enjoy the TV without hurting your eyes, but general rule is to watch it from a distance of minimum two times the width of the TV and maximum - five. "We work with our customers to design a system that provides the best viewing experience, and we always insist for the room size to be taken into account," – said Phillips.
"Another thing to consider is the angle," – added Phillips. He went on explaining that positioning TV too high on the wall or above the fireplace may cause neck strain and TV color imbalance, especially in LCD TVs.
Watching TV in a room that is too dark or too bright also contributes to the eyestrain, according to the study by the Lighting Research Center. "We helped a lot of our Maryland home theater clients install custom dimmable lights and TV backlights to ease the strain on the eyes without losing the movie theatre experience," – commented Phillips.
With the 3D TVs gaining popularity, excessive TV watchers have one more health risk to worry about. According to the study by University of California, Berkeley, stereo 3D can cause headaches, fatigue and visual discomfort due to forcing the eyes to constantly adjust to both the screen and the 3D content.
As the technological evolution progresses, TVs has secured their place on the market and in people's homes. While it is virtually impossible to completely abstain from watching TV, it's every viewer's option to choose safety and avoid eye-straining activities like sitting too close, watching in the darkness and spending too much time in front of the TV set.
###