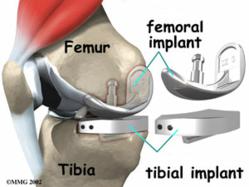 Capitola, Calif. (PRWEB) February 07, 2012
While total knee replacements make up a substantial share of the joint replacement market, partial knee replacements are growing in popularity among doctors and patients, according to experts from Santa Cruz Orthopaedic Institute.
Among the 750,000 joint replacement procedures done annually in the U.S., knee replacements make up more than half, around 400,000, according to the American Academy of Orthopedic Surgeons (AAOS). Total knee arthroplasty demand is expected to increase in the U.S. by 600 percent over the next 10 years.
In a new study published in Arthritis & Rheumatism, researchers from Helsinki University Central Hospital in Finland found a 130-fold increase in total knee arthroplasty from 1980 to 2006 among adults 30 to 59, particularly among women aged 50 to 59.
Partial knee replacements, also reflected in the Finish study, can give comparable results for a certain population of patients, resulting in less tissue trauma and providing more flexibility. In an National Health Service study in the UK, patients claimed their operative knee felt more like their natural knee compared with total knee replacement—known as "proprioception." Partial knee replacement also decreased overall costs to the NHS by several hundred million dollars.
"Partial knee replacements have been done in the states for about 10 years, and the numbers are growing," said Dr. Peter Reynolds, a partner in Santa Cruz Orthopaedic Institute. "Patients experience less surgical pain and can expect better extension of the knee."
Reynolds added that the procedure currently accounts for close to 10 percent of his knee replacement procedures, while those instructors performing the procedure the most are doing about 30 percent. Reynolds is among a few surgeons in Santa Cruz County who perform partial knee procedures, joined by his partner Dr. Nicholas Abidi.
Abidi is also performing Conformis® iUNI G2®and iDuo G2® custom partial knee replacements based upon CT scans that are taken of the patient's limb ahead of surgery. The CT scans map out the overall limb alignment and design custom cutting guides and prosthetic implants specific to the patient's deformity and limb mal-alignment. Abidi presented to the International Congress on Joint Reconstruction on partial knee replacements in 2010. Whereas this technology is also available from MRI-based scans for total knee replacement (without the custom implants), Abidi expects this CT-scan based technology for custom partial knee replacement to proliferate over the next few years. The FDA is currently evaluating a Conformis® iTotal® knee arthroplasty that spares the ACL and PCL ligaments.
For patients who need a knee replacement, only about 20 to 30 percent are candidates for the partial knee procedure, determined by special X-rays performed in the office. Partial knee replacements can restore knee function and resolve a painful knee only for patients with arthritis localized to the medial compartment (the left side of the right knee) or lateral compartment (the right side of the right knee). They must also have an intact anterior cruciate ligament (ACL). The surgery is minimally invasive where a smaller incision with tissue sparing techniques is used, compared to the standard total knee replacement. It is less painful, recovery quicker, and the results compare favorably to a total knee procedure.
Both total and partial knee replacements are major surgeries requiring months of rehabilitation, so are options when conservative options fail. Since most patients' arthritis isn't bad enough to need surgical intervention, Reynolds and Abidi will first recommend modifying activities, anti-inflammatory medication, physical therapy and cortisone knee injections.
Baby boomers have increasing options for taking charge of their health and staying active into their later years, and partial knee replacements may be an answer for some. More information is available at http://www.santacruzortho.com or by calling Santa Cruz Orthopaedic Institute at (831) 475-4024.
Contact:
Gail DeLano
DeLano Communications
831.588.1567
gdelano(at)sbcglobal(dot)net
Christian Heywood
Santa Cruz Orthopaedic Institute
831.475.4024
info(at)santacruzortho(dot)com
###