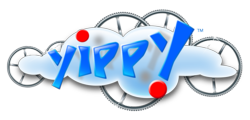 Fort Myers, FL (PRWEB) February 07, 2012
Yippy, Inc. (Pinksheets: YIPI) (http://www.yippy.com) ("Yippy" or the "Company"), providers of the world's fastest, family friendly search engine and web portal reported that CEO, Rich Granville, will present in 2 sessions today at the iMedia's Iconic Brand Summit which is the largest gathering of major brands in the world.
Subject: Vertical "Topic Oriented" Search
Session Description:
The discipline and technology of Search continues to evolve far beyond its original application, and now impacts virtually every facet of a marketer's online and offline strategy in paid media, social, video and owned media development.
Yippy.com, a world-class, top rated consumer search engine that creates custom enterprise and consumer "topic" search engines, will deliver in this fast-paced session the benefits of creating custom search indexes specifically about your iconic brand by aggregating ecommerce, blogs, social networks, web pages, news and information into an extremely organized and user friendly interface. Participants will learn:

To create "Light Speed" attraction by leveraging information and content.
How to deliver digital content "To the Moon" and engage more consumers with knowledge of your iconic brand and products.
Effective "Super Star" strategies to engage customers through topic and micro search engines.
How to create the online "Universe" of information around your iconic brand.
Rich Granville will take participants through these opportunities and others as well as present data from a recent Forrester Report on search trends, which ranked Yippy's software core Velocity by Vivisimo as #1 in the world for topic and enterprise search.
Don't miss this opportunity to get caught up on the latest in search trends and applications for your iconic brand. The future of information is evolving quickly, don't be the last to know.
iMedia - http://www.imediaconnection.com
Forrestor Report Link –
http://moreinfo.vivisimo.com/Analysts-Forrester-2011Report.html?leadsource=Forrester-Report-2011-Website777
About Yippy Inc.:
Based in Fort Myers, Florida, Yippy, Inc. (http://www.yippy.com) is a new economy technology company that develops technologies and application services environments for both consumer and commercial market segments.
Contact:
R. Granville
Investor Relations
Yippy, Inc.
1-877-YIPPY01
###