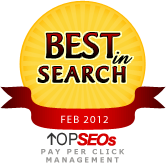 It's always nice to be recognized as the best at what you do.
San Jose, CA (PRWEB) February 07, 2012
WordWatch has been ranked the number one PPC bid management software for the month of February, 2012 by TopSEOs. This is the third month in a row that WordWatch has received the top ranking in the PPC bid management category. Companies are scored based on their user interface, features, effectiveness, customer support, and stability on a scale of 1-20 for each category, for a maximum total score of 100. WordWatch scored a 99 overall with perfect scores in four of the categories.
"It's always nice to be recognized as the best at what you do," Todd Wilkinson, CEO of WordWatch, said. "We are constantly working to better our product and be available to our customers and I think the TopSEOs rankings show that we really care about what we do."
The top four were rounded out by adCore, Kenshoo and Marin Software. TopSEOs releases their rankings at the beginning of each month.
About WordWatch:
Founded in 2009, WordWatch is an online AdWords bid management application designed for small business advertisers, marketing consultants and freelancers, and small agencies. The application simplifies the daily management of keyword bids and constantly optimizes a customer's AdWords account. WordWatch has offices in San Jose, Amsterdam and Krakow.
Related Links:
http://www.wordwatch.com
http://www.topseos.com/rankings-of-best-ppc-bid-management-software
###