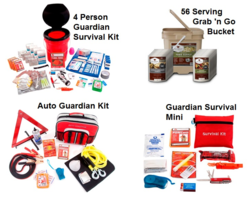 Be Safe
Janesville, WI (PRWEB) February 13, 2012
SurvivalTools-Equipment.com is a one place stop for the survival equipment needed in every circumstances and great for Mother's Day. Even the homeowner who believes that they are prepared for any emergency because they have stockpiled necessities for survival for home may be surprised to learn that they are not ready for an emergency evacuation.
Having emergency supplies in the home is not the same as having a Survival Kit. Survival depends on certon the Items. Survival kits should be easily accessible and transportable. A person never knows when a situation may arise with an emergency evacuation to an area that is not equipped to handle immediate basic needs. The ability to provide food and water, first aid and even warmth should all be available in an easy to reach place whether a family is faced with a disaster at home, in the car or is able to reach other shelter.
SurvivalTools-Equipment.com offers the supplies needed in any situation, whether the items are used for survival for home or away from home. Auto Survival kits from SurvivalTool-Equipment.com are available in sizes for a variety of emergencies. A basic kit is available to help keep the driver stay warm, nourished and hydrated until help arrives in the event that a mishap forces an overnight stay in the vehicle. Upgraded kits are packed with road hazard warning items as well as escape tools and extended survival supplies.
Survival kits come prepared for all situations. In the event of an extended school lock down, a survival for schools kit provides for everything children need, including a pail with a toilet seat. If an emergency means that the young ones won't be able to leave the classroom, the survival for schools kits will provide enough food and water to get through a confinement without additional anxiety.
Some catastrophes are easier to prepare for than others. Most regions of the country are susceptible to some type of natural disaster. Don't be fooled into thinking that your planning for these will be all the protection that you need. A true catastrophic event could take on many forms. SurvivalTools-Equipment.com offers the advice and supplies that will help protect the entire family, no matter what type of emergency conditions have to be faced.
# # #