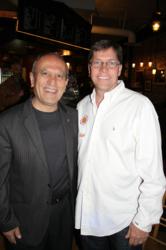 "It's been reported that 1 in 3 children have been exposed to sexual material on the internet."
Escondido, Cali. (PRWEB) February 08, 2012
High attendance left little space on the dance floor at Escondido Joe's Coffee Shop in the heart of downtown Escondido. The free, family-friendly event last Saturday featured a DJ, interactive games for children, prizes, and a presentation by Club TUKI founder, Greg Writer.
Writer demonstrated his passion for Internet safety and the company's goal to protect and educate children online by quickly bringing to attention the statistics from a report in 2006 by The National Center for Missing & Eploited Children:
"It's been reported that 1 in 3 children have been exposed to sexual material on the internet."
The evening concluded with all attendees receiving a free subscription to Club TUKI and free apparel from their sister company BYOU - Be Your Own You, a company dedicated to girl's self-esteem.
The TUKI™ browser and Club TUKI™ web portal combine are an online membership community and aggregation of top quality online content for kids in a safe environment. It features interchangeable themes, parental safety controls, kid-safe email, kid-safe YouTube video sharing platform, chore reminders, encouraging & motivational affirmations, and animated characters – all in an environment that allows them to enjoy the benefits of the Internet, without the dangers associated with it, while accelerating educational growth at the same time.
# # #