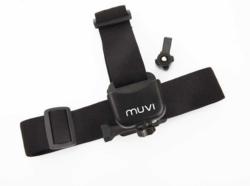 Malvern. PA (PRWEB) February 07, 2012
SportHiTech today announces immediate online availability of the new Veho VCC-A014-HM helmet mount, designed for easy and tight fitting so you can capture all of the action from your own point of view. The mount comes with the holder for the Veho MUVI HD and also the tripod mount for the Veho MUVI HD Waterproof case.
The new mount allows all helmet wearers to capture the action, giving helmet action camera users access to the ultra lightweight Veho Muvi HD camera, with a massive set of features including full 1080p recording, a built in LCD screen for viewfinder and playback, a wireless remote control and HDMI output.
The Veho Muvi Helmet Mount is fully adjustable with 2 way Adjustment to fit any size helmet, and has a rubberized inside lining for maximum grip. It ships with a MUVI HD holding mount and a waterproof case tripod mount, and has an adjustable connection for angling MUVI into correct filming position.
The Veho Muvi Helmet mount is available immediately from SportHiTech at an introductory price of $39.95 including shipping. The Veho Muvi HD and Waterproof case compatible with this mount are also available from SportHiTech at a special bundled price of $199.95.
The mount is available here on the SportHiTech.com website.
# # #