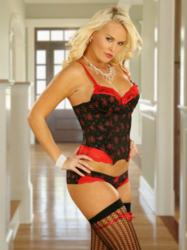 Think about the benefit of telling your partner "I want to wear some sexy lingerie on Valentine's Day."
Annapolis, MD (PRWEB) February 07, 2012
Valentine's Day 2012 is rapidly approaching and for those in relationship's this can be a fun and sexy time of year. A time honored tradition where lovers openly express their love. The day serves as an initiatory platform of love for new relationships as well as a romantic reaffirmation of love for older ones.
It's no secret that Valentine's Day has evolved from its romantic beginnings, but today thanks to the internet and social media what hasn't. Just as the day itself has evolved, so has the way it is celebrated. Not only is Valentine's Day shared between lovers, it's now shared amongst co-workers, family, and friends. The bowl of candy for the office, cute cards to friends, homemade heart shaped cookies for the kid's class and sexy lingerie for that special someone. As the Valentine's Day gift list increases yearly it's easy to forget the foundation for the holiday.
Intimate romance is what should be celebrated on Valentine's Day and http://www.mylingerielounge.com wants to make sure that everyone gets it right. Think about the benefit of telling your partner "I want to wear some sexy lingerie on Valentine's Day." Of course many like to give that element of surprise but what's sexier than giving and getting exactly what's asked for? So today, why not give them a little nudge and "tell them what you want." Everyone needs a little advice here and there.
For more information about My Lingerie Lounge, visit http://www.mylingerielounge.com, or follow the company on Twitter @jbell_24 and Facebook to stay connected with special offers and new products.
About http://www.mylingerielounge.com
Online lingerie retailer with large selection of bras, panties, lingerie, plus size lingerie, sexy costumes, hosiery, bridal, adult party costumes, clubwear, swimwear, and adult toys! Affordable prices, fast shipping and secure ordering.
###