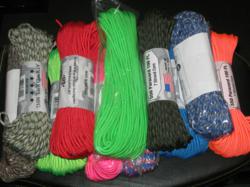 In Stock & Ready to Ship!!!!!!
Lexington, Kentucky (PRWEB) February 11, 2012
Fort DeTroyon Survival has just announced that they are fully stocked with para-cord. Para-cord has a myriad of uses which include all aspects of surviving in a emergency situation. It has been used to make a fire starting bow, fishing line, snares, an emergency car fan belt, lashing for an emergency raft or just about anything else one can think of.
Para-cord is mildew and rot resistant. It remains viable and useful for years. Para-cord has gained popularity in recent years with people that like to design and make their own Survival Bracelets, key chains, rifle slings, belts and lanyards.
All of Fort DeTroyon Survival's para-cord is Type III 550 commercial grade made by certified government contractors in the United States of America. Fort DeTroyon Survival features para-cord made by Rothco, Gladding and Atwood. Fort DeTroyon Survival is continuously adding new colors and patterns of parachute cord for all of your survival oriented needs.
# # #