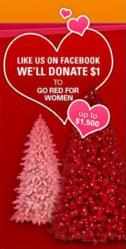 Cardiovascular disease is a very serious problem. Through Facebook, we hope to raise awareness and funding for the Go Red for Women movement.
South San Francisco, CA (PRWEB) February 08, 2012
While couples around the world are spreading the romance on Valentine's day, a Christmas tree provider will be showing some love to the nation's hearts through a charitable Facebook program. Treetopia ™, a leading source of funky artificial Christmas trees, has promised to donate $1 to the American Heart Association's (AHA) Go Red for Women movement for every new "Like" on the Treetopia ™ Facebook page. The donation program was launched at the start of February to coincide with AHA's celebration of American Heart Month.
"Cardiovascular disease is a very serious problem that hits close to home for many Americans," explains Carrie Chen, Vice President of Marketing for Treetopia ™, "With the Facebook donation program, we hope to raise both awareness and funding for the Go Red for Women movement."
In order to support the donation drive, all users need to do is log on to Facebook and "Like" the Treetopia ™ page. Every new "Like" registered from the beginning of February will be tallied, and a donation of up to $1500 will be made to charity. Users who already "Like" Treetopia ™ on Facebook can encourage their friends to do the same for a good cause.
Along with the donation program, the company will be showing its support for American Heart Month by offering heart-friendly tips on its Facebook page. Visitors will be able to learn the many small things they add to their daily routines in order to promote cardiovascular health. Links to other helpful materials, including articles on heart care and disease prevention, will also be shared on the company's wall.
"We wanted to build on the success of last October's Breast Cancer Awareness Month program and see if we can raise even more awareness for American Heart Month," Chen adds. "It really amazed us how much good we were able to do through Facebook."
The Go Red for Women movement was initiated by the AHA to promote awareness on women's cardiovascular health issues. According to the AHA, many individuals tend to regard heart disease as a problem for older men, leaving the issue relatively unaddressed among women of all ages. Through the awareness raised by the program, the AHA hopes to both reduce the cases of heart diseases in the US and improve the overall cardiovascular health of Americans by 20% by 2020.
In addition to the company's social media efforts, Treetopia ™ is also holding a special Christmas tree sale for the whole of February, offering their many traditional and colored Christmas trees at significant discounts. The company encourages supporters of American Heart Month and the Go Red for Women movement to show their solidarity with the program with a red Christmas tree.
About Treetopia™
Treetopia.com is an online store featuring a diverse selection of artificial Christmas trees. From traditional Christmas trees to colored Christmas trees and lighted palm trees, Treetopia has something for everyone. They sell exclusively online through http://www.treetopia.com.
###