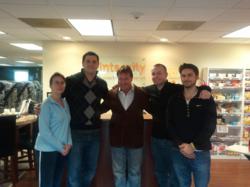 "For us, our member's success is tied to how well we take care of them. I wanted to be certain each member of our facility gets the most out of their membership. With EZ Coach I know they are getting a plan that ensures their fitness success."
Elmwood Park, NJ (PRWEB) February 07, 2012
Co-owner's Mike Malone and Ben Krymis of Achieve 24 Fitness Centers in Elmwood Park and Hackettstown New Jersey have recently enhanced their business model to adopt the new EZ Coach health-coaching system. This new health-coaching model allows the Achieve 24 Fitness members to capitalize on getting the "fitness programming" necessary to reaching their goals following the initial sign-up procedure. Malone states, "For us, our member's tenure is tied to how well we take care of them after the sale. I want to make certain each member of our facility gets the most out of their membership. With EZ Coach I know they are getting a plan that ensures their fitness success."
The EZ Coach system also makes health coaching affordable to every person who wishes to make positive changes in their health. Rocco Boulay, exercise physiologist and EZ Coach creator says, "The EZ Coach program addresses the 7-components of health that make a person optimally healthy. These components are strength, cardiovascular fitness, flexibility, body composition, meal planning, nutritional supplementation and the mind/body connection."
EZ Coach's unique scientific approach measure each participant's current fitness levels then employs a series of complex mathematical algorithms that develop a very precise exercise prescription. Once the prescription is created, the fitness club member can log onto the EZ Coach website to learn how to execute the exercise plan.
Rocco adds, "The challenge many health and fitness centers face today are competitors who offer low priced memberships that only provide "equipment rental" and not the planning necessary to get people fit. People join these membership only facilities year after year only to be disappointed with their lack of results that lead to dropout." Ben Krymis of Achieve 24 says, "If a member can get fit all on their own that's great. But if there is a member who is struggling in the club and they cannot afford personal training, I want to be sure that they get enough direction to get results they seek. This is the member we hope to service with the EZ Coach program."
John McCarthy, former Executive Director of the International Health & Racquet Sports Association (IHRSA) states, "Today, new members are not only harder to find, but they are also more expensive to acquire. More and more clubs will be placing a greater emphasis on membership retention, i.e., on keeping the members they already have. Ultimately, this will be good for the industry. It will also be good for individual clubs and individual club members." The EZ Coach system allows club owner to provide every member in the club the instructions necessary to see results that lead to member retention and greater profitability.
The EZ Coach software application is compatible on both PC and Macintosh platforms. It also utilizes Apple's I-Pad to collect data from the member during an exercise test that immediately syncs the data into the software that generates an 8-week fitness plan. This efficient protocol eliminates hours of labor while providing members with their own fitness plan.
For more information please contact us at http://www.myezcoach.com or http://www.achieve24fitness.com
###