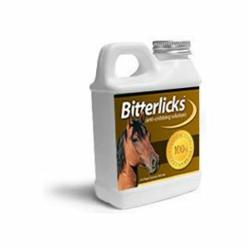 Planet Amazing has launched a series of environmentally friendly products for horses.
Austin, Texas (PRWEB) February 06, 2012
Planet Amazing has launched a series of environmentally friendly products for horses after their scientists did research with several major horse farms that had been caring for racing horses and needed to stop the horses from cribbing, as well as deal with other health issues, according to Justin Douglas of Planet Amazing. The horse farms had worked with a bitter substance for several years and also had worked with scientists to develop related grooming techniques.
Mr. Douglas explains: "Our team of scientists looks for environmentally safe products that we either can create or that are already in use in society. Bitterlicks came out of one of these relationships where the solution was already in use for many years at expensive horse farms caring for racing horses, where cribbing muzzles were not allowed to be used because of the type of premium horses they were caring for, so they had scientists develop Bitterlicks as a completely safe, non-toxic substance that can be put on the wood or metal to make the horse stop chewing or cribbing on the wood and metal."
"That's how the most bitter substance on the face of the earth was turned into a non-toxic, safe anti-cribbing solution for horses," Mr. Douglas says.
For more information, visit the Amazon.com Planet Amazing storefront.
About Planet Amazing
PlanetAmazing.com is the premier manufacturer and distributor of a wide range of organic and inorganic "GRAS" solutions that anyone…no matter their experience…can use to eliminate real everyday problems. Planet Amazing, the makers of Bitterlicks™, is an EPA registered manufacturer and packager of family-friendly and environmentally safe pesticides and other products. Planet Amazing sets high standards for their operating companies in the area of environmental responsibility — striving for performance that does not merely comply with regulations but reduces the environmental impact. They commit to take care of the planet and preserve its beauty, resources and strength for future generations. Planet Amazing embraces research and science - bringing innovative ideas, products and services to advance the lives and well-being of people. Employees of the Planet Amazing Family of Companies work with its partners in order to touch the lives of people every day, throughout the world.
###