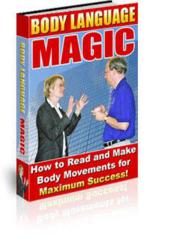 This is ninja training for business.
Austin, TX (PRWEB) February 06, 2012
"A new bonus called Body Language Magic has been added to most Shoestring Publishing business startup courses," says Justin Douglas of Shoestring Publishing. "This bonus course promises to help people with increased power in negotiations and sales, as well as how to recognize if people are interested in what you are saying, if they are casting doubts on you, if they are more open to accept your proposal, and even when they are lying."
Many people are starting a business startup without having any experience, help or proper training, Mr. Douglas explains: "The Shoestring business startup courses are giving you the training from experienced people who have already started that business, plus training with accounting, legal issues, social media like Facebook and Twitter marketing tactics, and more. The Body Language Magic bonus course is a real part of communicating and negotiations that can make a big difference in your overall income, and this is a free bonus training for those that get a business startup course from Shoestring Publishing."
"This is ninja training for business when you get down to it. How many people study business at all before they start a business? The training will help a lot, and can save years of heartache and struggle. And studying body language gives you an edge," Mr. Douglas says. "We use body language everyday in our lives to get our message across. Could you even imagine the awesome power of applying it? With it, you'll be able to interpret other people's inner emotions even if they're not directly expressing it. You'll also be able to modify your behavior to fit the situation. You'll get them to like and trust you. What words cannot do, body language can."
For more information, visit the Shoestring Publishing website.
About Shoestring Publishing
Shoestring Publishing is the premier online publisher of "extra income opportunities" that anyone can use to earn additional income. Unlike 99% of the so-called "opportunities" that promise to make millions overnight, the Shoestring Publishing mission is to show legitimate methods to earn a little extra income in a short period of time. Shoestring Publishing brings the very best in business startup courses to the public. They don't promise to make their students millionaires, but they do promise to show REAL strategies for earning extra cash that don't involve any special skills or a massive learning curve. All students need is an internet connection, an open mind and a willingness to learn.
###