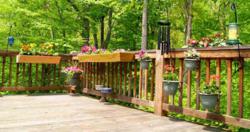 With Rockit Brand Brackets, I can actually see a light bulb going off in the customer's head and that tells me there is a significant market for this revolutionary bracket
Asheville, NC (PRWEB) February 07, 2012
Two Companies with values rarely seen in today's business world have formed an alliance. Blue Ridge Bracket Company, inventor of the "no tools no clamps" planter bracket is excited about partnering with Gard'N-Wise Distributors. Both companies believe in doing everything possible to meet and exceed customer needs. They accomplish this goal in part by focusing on independently owned and operated companies.
Blue Ridge Bracket Company has found a niche with independently owned and operated distributors since opening their doors in 2008. Blue Ridge Bracket Company CEO Trent Van Dyke says, "It is the goal of BRBC to distribute product throughout the US and Canada using independent or family owned distribution centers." When asked how Gard'N-Wise benefits Blue Ridge Bracket Company Trent said, "Working with the Gard'N-Wise sales team has been quite an experience for me." He elaborates by stating "Without exception, each time I walk into a retailer with one of their sales staff, I feel as if I am witnessing a family reunion. The level of knowledge and experience each person has for their customer is like nothing I have ever seen." Blue Ridge Bracket Company believes that their universal planter brackets, flower pot holders, and bird feeder hangers are a product line that fits into the Gard'N-Wise business model.
Gard'N-Wise Distributors is a specialty distributor of lawn, garden, greenhouse and landscape products serving garden centers, retail and commercial nurseries and greenhouses for over 40 years. They have warehouses in Denver Co, Salt Lake City UT, Lubbock TX, and Wichita KS, covering 12 states. Gard'N-Wise specializes in serving independently owned and operated retailers with exclusive and unique products for the home gardening enthusiast. John Bruntzel is the Midwest buyer and sales manager for Gard'N-Wise Distributors. He said, "When I think of brackets, we think of what we used to sell which has gone by the wayside." He continued, "With Rockit Brand Brackets, I can actually see a light bulb going off in the customer's head and that tells me there is a significant market for this revolutionary bracket." John Bruntzel is one of the many representatives of Gard'N-Wise who help the company live up to their mission statement on a daily basis. According to John, Robert Wise founded the company with a mission of "partnering with customers to help them succeed in a competitive market by providing superior service, extra marketing assistance, and environmentally sound and quality products that will ensure long term growth and viability for all."
Gard'N-Wise Distributors and Blue Ridge Bracket Company represent core business values that have been forgotten by many corporations as of late. Both companies believe in going the extra mile to ensure customer satisfaction and promote long term business relationships. What used to be considered "The American Way" is now practiced by a handful of companies. Blue Ridge Bracket Company and Gard'N-Wise Distributors just happen to be two of those companies.
Blue Ridge Bracket Company is based in Asheville, North Carolina and carries products for gardening, birding and seasonal decorating. Blue Ridge Bracket Company ships to hundreds of independent garden centers, wild bird stores, and hardware stores across the United States and Canada. For more information on Blue Ridge Bracket Company or their products, please visit http://www.justrockit.com Contact Trent Van Dyke at (828)242-8577 or by mail at Blue Ridge Bracket Company 40 Wendover Road Asheville, North Carolina 28806.
# # #