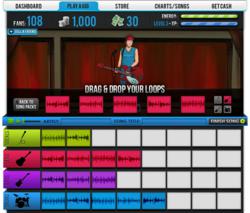 "I looked around the gaming industry and saw what folks like Zynga were doing with FarmVille, and it seemed for as much money as they were making people were not getting something of much value in return."- Marshall Seese, Jr., Founder & CEO
Atlanta, GA (PRWEB) February 08, 2012
Mowgli's first product: http:// Songster Beta has finally launched. The music-based game will allow players to create something real: something players can produce themselves and show off outside the game — that's right, damn good music.
In addition to the creation aspects of Songster, players will follow a compelling storyline of a fledging musician working their way up through the ranks of the music industry. From playing gigs at frat houses and proms to launching a worldwide arena tour, players can make great music, while allowing their creativity to take them through the levels of the game.
Afterwards,Songster enables users to post the songs they've created onto friends' walls, encouraging gamers to spread the word just as they would a new hit song.
Plus, you can still jump into the action even if you're not the next Led Zeppelin. Songster's innovation of the "Song Pack" enables anyone, regardless of musical knowledge, to create a compelling track. Marshall Seese, Jr., Founder and CEO of Mowgli, said: "I looked around the gaming industry and saw what folks like Zynga were doing with FarmVille, and it seemed for as much money as they were making people were not getting something of much value in return."
With that in mind, it's important to remember that any value a player receives from an existing game is locked within the game itself. Let's face it: a FarmVille farm will never become a real farm, but on Songster players can create the next music hit.
Starting now Mowgli is inviting you to share an exclusive Backstage Pass to play Songster Beta. To check out Songster Beta before it becomes available simply go to http://www.playsongster.com and enter Backstage Pass Code P5CXZK
For more information on Mowgli and Songster, visit http://www.mowgligames.com .
About Mowgli LLC
Mowgli, a gaming company based around a simple concept – connecting people through social creation. Mowgli was launched in Atlanta in 2010 by Marshall Seese, Jr. and Adam Kunz out of a desire to change the quality of games you play online. The company recently raised over a half million dollars from 13 Atlanta Angel investors. Mowgli is named after the protagonist in Rudyard Kipling's "The Jungle Book." In the book, Mowgli is valued among his wolf peers because of his ability to remove the thorns from their paws. Similarly, Mowgli believes it can add value to the growing social gaming market by solving a problem inherent in all other social games – gamer creations are trapped.
Mowgli creates games that encourage and enable creativity and social connections – real social creation. These games will allow players to build and collaborate in a variety of disciplines including music, illustration and video.
Media Contact:
Marla Gonzalez
B Culture Media
marlag(at)bculturemedia(dot)com
770.686.4716
###