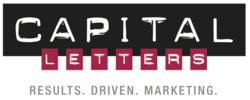 "We offer CAM members effective, low-cost websites and marketing services tailored to their needs." Chris Hippler, President of Capital Letters
Ann Arbor, MI (PRWEB) February 23, 2012
Capital Letters, an Ann Arbor marketing company, has been selected by the Construction Association of Michigan (CAM) as a Preferred Partner for websites and marketing services.
"We are excited to be partnering with the team at Capital Letters," said Kevin Koehler, President of CAM. "Our members will benefit from their website and marketing expertise."
Chris Hippler, the President of Capital Letters, is an active member of CAM and writes "Marketing on the Level," a monthly column for CAM Magazine.
"CAM is an outstanding organization and we are proud to help CAM members in their marketing efforts." said Hippler.
About Capital Letters
Capital Letters is a business-to-business marketing company headquartered in Ann Arbor specializing in the commercial and industrial construction industry. Chris Hippler is the President and leads a team that focuses on getting results for clients through online and print communications. 734-353-9918 (http://www.capitallettersmarketing.com)
###