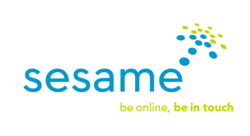 "TruDenta member practices can effectively utilize all of the Sesame services to accelerate practice growth by helping more patients."
SEATTLE, WA (PRWEB) February 07, 2012
Sesame Communications, the leader in cloud-based patient communication systems and Dental Resource Systems, the pioneer of the TruDenta technology and education for diagnosing and treating force related dental conditions, announce a collaboration to provide all TruDenta member dental practices with the Sesame 24/7 patient connection system. Sesame helps dentists attract and meet patients where they are most likely to be found today… online. On average, TruDenta practices using Sesame to market their services are experiencing 41 calls a month with 13 specifically identified as new patients.
TruDenta is a rapidly growing patient treatment system practiced by dentists in 34 states. It enables properly trained practitioners to diagnose and treat dental force related conditions which often result in painful symptoms including headache, migraine, TMJ issues, failed dental restorations and other face and jaw related pain.
"TruDenta practices are extensively trained to provide a better standard of care for all patients by understanding the impact of dental forces. It is a foundational education and technology for any doctor desiring to provide state of the art care." Commented John Harris, Dental Resource Systems, CEO. "Through a strategic relationship with Sesame, our TruDenta member practices can effectively utilize all of the Sesame services to accelerate practice growth by helping more patients."
Research indicates that over 70 million Americans suffer from chronic headaches and migraines, many of which can be dental force related.
The unchallenged leader in online behavior research, Sesame Communications helps dental practices uncover what patients want and what works best for them in a rapidly evolving digital market. Since 1999, Sesame Communications has evolved into a top-flight, online marketing communications technology services firm offering web and mobile site design, patient portals, search engine optimization, social media services, online marketing and other strategic online services to enhance practice growth. Sesame Communications complements these offerings with rich analytics to help better manage practice growth.
Dianna P. Friedman, Chief Executive Officer of Sesame Communications noted. "We are excited to work with TruDenta and their progressive doctors to help educate dentists and consumers on the importance of understanding and treating force related dental conditions. Their approach will ultimately be the foundation of all proper dental care. The extensive research and development by Dr. Mark Montgomery, the Chief Dental Officer of TruDenta, and his team will help both practices and patients alike. "
About Sesame Communications: Sesame Communications is the leading provider of cloud-based patient connection systems for the dental industry with more than six million patients regularly communicating with providers via Sesame services. Sesame continues to build on its category leadership position by expanding its team and service offerings through extensive market research and industry needs assessment. An Inc. 500|5000 and a Deloitte Technology Fast 500TM company, Sesame is recognized as one of the fastest growing technology companies in the United States. Sesame is also the proud recipient of numerous awards and accolades, including a two-time Pride Institute Best-of-Class winner and as one of the 100 Fastest Growing Companies by Puget Sound Business Journal. For more information on Sesame, visit http://www.sesamecommunications.com or call 877.633.5193.
About Dental Resource Systems and TruDenta: Dental Resource Systems provides select dental practices with the turn-key TruDenta system of technology, training and coaching which allows them to provide an advanced standard of comprehensive care to their patients. Doctors are equipped and trained to understand, diagnose and treat dental force related conditions. The patented and proprietary TruDenta technologies are combined with extensive training and education by Dental Resource Systems doctors at the UNLV School of Dental Medicine and the Nova Southeastern College of Dental Medicine. For more information on Dental Resource Systems, visit: http://dentalresourcesystems.com
###