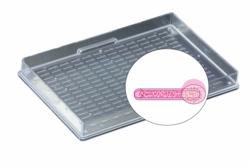 Thermo Fisher provides the best possible distribution channel for iuvo as they are the dominant player in the high content analysis space. Bob Lowery, CEO of BellBrook Labs
Madison, WI (PRWEB) February 08, 2012
BellBrook Labs today announced that Thermo Fisher Scientific Inc., the world leader in serving science, will exclusively distribute the company's iuvo™ Microconduit Array products, including the iuvo™ Microchannel 5250 and the iuvo™ Chemotaxis Assay plates. These products, coupled with Thermo Scientific's high-content cellular analysis tools, enable scientists to build advanced cell models and conduct functional assays in a miniaturized, high-throughput format. Such assays offer more relevant models of living systems for drug discovery and basic cell research, without sacrificing productivity. BellBrook will continue to provide compound their unique 3D Cell-Based Assay Service for compound profiling, which includes phenotypic, HCA-based analysis of tumor cell invasion, cell cycle, and other functional endpoints in a tissue like microenvironment.
The iuvo Microconduit plates are fully compatible with the Thermo Scientific ArrayScan VTI HCS Reader and Thermo Scientific CellInsight Image Cytometer as well as automated microscopes and plate readers. All Thermo Scientific high-content platforms have been optimized for use with the iuvo Microconduit Array plates to provide a simple workflow, coupled with sophisticated image analysis to deliver multi-parameter data on cell function.
The combination of these tools offers clear advantages, such as automation, standardization, quantification and cost savings, compared to traditional manual methods. The plates may be used for studying a wide variety of cell functions of interest to cancer, inflammation and immunology researchers, including chemotaxis, cell invasion, cell migration and angiogenesis. In addition, these assay plates enable researchers to reproduce complex microenvironments in vitro and study their role in cell function in order to improve the search for new drugs.
About BellBrook Labs. BellBrook Labs, LLC develops detection reagents and microfluidic devices that accelerate the discovery of more effective therapies for cancer and other debilitating diseases. Transcreener® is a patented high throughput screening assay platform that was introduced in 2005 and is used to identify inhibitors for kinases and other types of protein drug targets. The iuvo™ Microconduit Array technology and assay screening service is a line of unique microscale devices for miniaturization and automation of advanced cell models that are more representative of human physiology. Visit BellBrook's website for more information: http://www.bellbrooklabs.com.
###