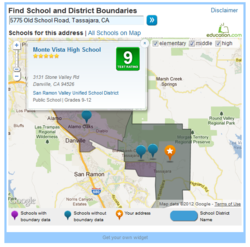 By adding our School Boundaries tool we've created a truly comprehensive resource that...allows realtors to easily support their clients.
Redwood City, CA (PRWEB) February 07, 2012
Education.com, the fastest growing website for parents of school age children and a resource for more than five million unique visitors a month, today launched School Boundaries, a digital resource map that indicates to which public schools and school districts homes across the nation are assigned. Available as both an online search tool and customizable widget for realtors nationwide, the School Boundaries tool covers all of the 13,000 school districts in the U.S., providing information that has not been freely or readily available to date. School Boundaries joins other popular school resources on Education.com including School Finder, a proven tool that helps parents research qualitative and quantitative information about schools near homes they're considering.
"When buying a home or considering a move, we know that most parents place a high priority on understanding local school system information," said Seann Birkelund, Vice President of Business Development at Education.com. "We also know that realtors struggle with how to provide school boundary data to their clients. By adding our School Boundaries tool we've created a truly comprehensive resource that offers home buyers an at-a-glance view of the district and schools to which their prospective home is assigned and allows realtors to easily support their clients in this process at no extra cost and in compliance with the Fair Housing Act."
Free to the Real Estate Industry
Available at no cost to the real estate industry for the first time, Education.com's School Boundaries widget gives Real Estate professionals free and unlimited access to data that previously was only available at a high cost or required significant offline research through local district and school records. Customizable by size, zoom level, background color and more, the widget is easy to implement and only takes a few minutes to add to websites. Visit the widget creation landing page for more information: http://www.education.com/schoolfinder/tools/school-boundary-widget/
About School Boundaries Data
Updated on an annual basis, the baseline data for the School Boundaries tools, including school name, district, address, and school type is reported directly from the National Center for Education Statistics (NCES). The boundary data is collected directly from school districts. The tools currently have nationwide coverage for district boundaries and specific school boundaries for 55% of school districts. Parents can also access Education.com's proprietary Test Ratings (which indicates how a school's standardized test scores compare to other schools in the state) and Education.com's 5-star parent rating.
For more information visit: http://www.education.com/schoolfinder/school-boundaries/
About Education.com
With over five million visitors a month, Education.com is the fastest growing web destination focused for parents. Education.com gives parents and educators the information they need to help their children reach their full potential and the ideas they want to make learning more fun. From kindergarten readiness through college prep, Education.com offers high quality content, educational activities, printables, and worksheets; engaging video content; a rich community experience; and a resource that provides qualitative and quantitative information about schools across the country. Education.com was founded in 2006 and is headquartered in Redwood City, CA. The company is backed by leading venture capital firms, Azure Capital Partners, TeleSoft Partners, and California Technology Ventures. For more information, please visit http://www.education.com.
###